Early data shows that the Pfizer vaccine is less effective against the new Omicron coronavirus variant but still provides relatively strong protection against severe illness and hospitalization from the variant, according to a major South African health insurer.
Two doses of the Pfizer-BioNTech vaccine seem to provide 33 per cent protection against Omicron infection, compared to people with no vaccination, but the protection rises to 70 per cent in preventing hospitalization, the data suggest.
The report released on Tuesday by Discovery Health, the largest private health insurer in South Africa, is based on a review of more than 211,000 COVID-19 cases, including 78,000 cases since mid-November that are presumed to be Omicron, which has been dominant in South Africa for several weeks. The study has not been peer-reviewed.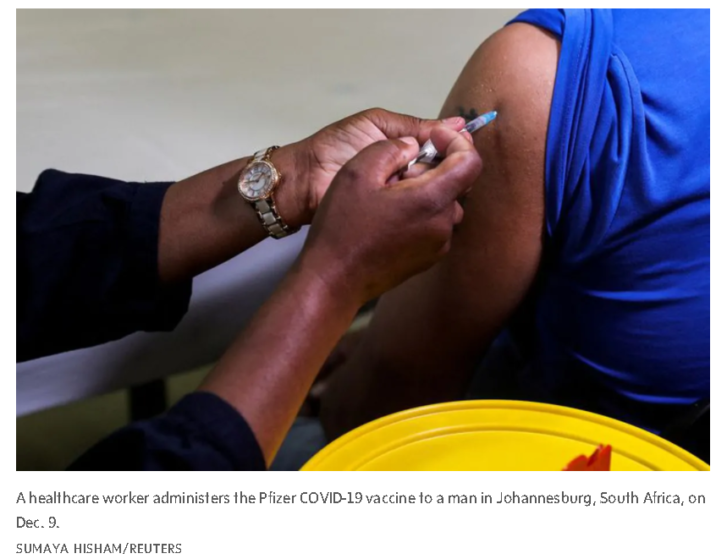 The Omicron variant is believed to be more transmissible than previous variants and more capable of causing reinfection, but early evidence suggests that it might cause milder illness.
South Africa was the first country to detect and report Omicron to the World Health Organization last month, but it is no longer the country with the largest number of cases, according to a WHO report on Tuesday. The variant has been found in at least 75 countries, in every region of the world, with community transmission already widespread in some countries.
The WHO report did not identify the country with the highest number of Omicron cases, but Britain is believed to be among those with the largest case numbers.
Britain announced on Tuesday that it is ending its travel ban on 11 African countries. The ban will be lifted on Wednesday morning. British health secretary Sajid Javid told parliament that the ban is being lifted because there is now community transmission in Britain and the Omicron variant "has spread so widely across the world."
Canada and most other Western governments still have travel bans in place for many African countries, despite sharp criticism from scientists and health experts who say that the bans are pointless. The bans have devastated the tourism industries of southern African countries in their most important month of the year.
The report by Discovery Health found that two Pfizer doses had provided 80 per cent protection against COVID-19 infection before the emergence of the Omicron variant. This protection dropped to 33 per cent for Omicron.
The drop in protection against hospital admission was much less steep. Two doses of Pfizer provided 70 per cent protection against hospital admission from Omicron, compared to 93 per cent for earlier variants. (The WHO considers a vaccine effective if it provides more than 50 per cent protection.)
"We are extremely encouraged by the results of Discovery Health's analysis," said Glenda Gray, president of the South African Medical Research Council, in a statement on Tuesday.
"It is extremely important to be able to demonstrate to the public that in a real-world setting – in the presence of a highly transmissible new COVID-19 variant – the Pfizer-BioNTech vaccine provides good protection against severe disease and hospitalization," she said.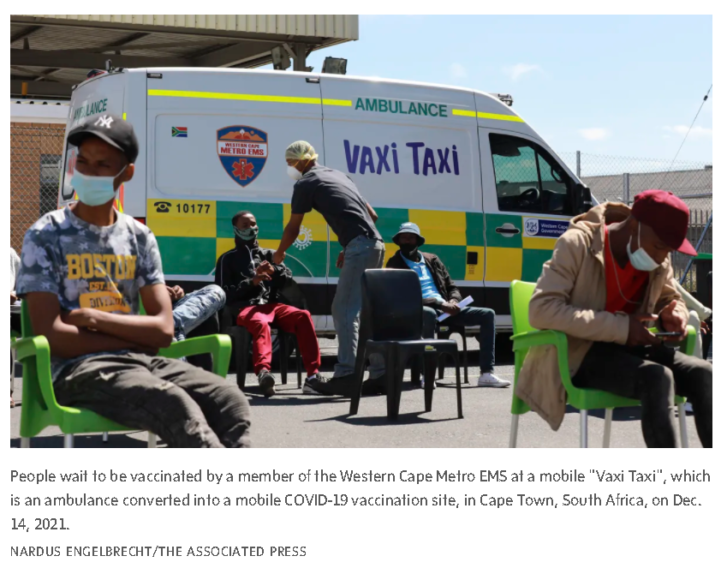 The data also showed that Pfizer's protection against hospital admission is maintained across all age groups, with only a slightly lower level of protection for older people, and its protection is also maintained for those with chronic illnesses such as diabetes and hypertension.
Looking at the broader trends, the report found that Omicron is producing a steep rise in new infections in South Africa as it spreads rapidly across the country, but it seems to be causing a lower increase in hospital admissions, possibly suggesting that Omicron is causing less severe illness.
Compared to the first wave of COVID-19 last year, South African adults seem to have a 29 per cent lower risk of hospital admission from Omicron, and they are also less likely to be admitted to intensive-care units, the report said.
Article From: Globe and Mail
Article From: GEOFFREY YORKA, JOHANNESBURG