This post is also available in: 简体中文 繁體中文
During the pandemic, you may notice changes to your eating, sleeping, or level of physical activities. For some people, they eat and sleep more when stressed as a natural response to avoid anxiety. For others, worries cause them unable to eat or sleep. Being confined at home may limit our amount of physical activities, even though this can actually strengthen our body and mind. Re-establishing our routines and working on healthy habits will be helpful for us during the pandemic and beyond. Let's review some tips to take better care of ourselves!
Sleep
Why is sleep important during a pandemic?
Maintains a strong immune system
Keeps our minds sharp and clear
Keeps our moods and spirit up
Improves our mental health and wellbeing
Good Sleep Practices
maintain a regular sleep schedule, especially your wake-up time
limit naps to short naps in the early afternoon – try a 10-min powernap!
stay active during the daytime (not nighttime) to work off your energy
reserve your bed for sleep (and sex)
reduce screen time, especially blue light, towards the end of the day
limit caffeine, like tea, coffee, soft drinks, preferably to before noon
limit alcohol to a drink or less a day; alcohol helps you fall asleep, but disrupts your deep sleep
if you have any worries, try writing them down to clear your mind some time before bed
develop a relaxing routine before bed; warm bath, soothing music, and relaxation breathing may help.
if you have trouble sleeping, the more you worry about sleep, the more difficult it becomes. Don't spend too much time lying in bed struggling if you can't sleep. In fact, it is helpful to limit your time in bed if you have trouble sleeping. If you can't sleep well for a couple of nights, your body will naturally catch up if you don't worry too much about it!
For more information:
Sleep Guidelines During the COVID-19 Pandemic
Anxious Thoughts? 5 Tips to Help You Sleep
___________________
Eat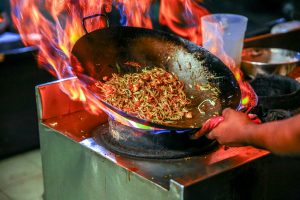 With the pandemic, our food choices may change due to emotional stress, convenience, or limited affordability or access to food choices. Mindful food choices and eating habits can keep us healthy and bring us delicious joy with each meal!
Make Mindful Food Choices
Schedule regular eating times
Eat a balanced diet. What are the 3 food groups? Check out the newly revised Canada's food guide.
Avoid high-sugar or high-salt snacks
Avoid processed foods, or anything that comes in a package; they may feel tasty and even addictive, but this comes at a cost of your health
Whenever possible, eat the rainbow! Colourful fruits and vegetables contain important vitamins, antioxidants, and anti-inflammatory compounds
Make a grocery list when shopping, choosing fruits, vegetables, whole grains, healthy fats, and lean proteins; this helps you avoid the temptation at the supermarket
Every now and then, maintain family traditions and social connection via videoconferencing with family members during mealtime
Drink plenty of water
Substitute high sugar sodas and juice for flavored water (add some fruit!)
Fine, you made it this far down the list. Enjoy an occasional "comfort meal" as a treat! Whatever makes you feel good. This might be a good time to order in and support a local restaurant business.
With each meal – eat mindfully! Put down your phone and avoid distractions during mealtime. Enjoy and savor each bite!
For more information:
Dietitians' advice for the general public about COVID-19 – Dietitians of Canada
Nutrition advice for adults during the COVID-19 outbreak by WHO
Food safety, nutrition, and wellness during COVID-19
Eating during COVID-19: Improve your mood and lower stress
In Cantonese:
【Re:Fresh陪你心靈抗疫】營養學篇1:抗壓飲食法:
【Re:Fresh陪你心靈抗疫】營養學篇2:提升免疫力的營養素:
Traditional Chinese Medicine and Mood (Cantonese):
___________________
Move
Physical activity benefits both the body and mind. Even 20-25 minutes/day can make a big difference! For adults, the recommendation is at least 2.5 hours of moderate to vigorous aerobic activities per week, in bouts of 10 minutes or more. Aerobic activities ("cardio") include running, swimming, jogging, and walking. Not only are these exercises good for your heart and lungs, it is also great for your brain, improving your mental health and cognition, such as your memory. With confinement at home, you may find yourself doing just the opposite – a lot of sitting around, whether you are surfing the internet or working from home. Too much sitting has been associated with poor health in research. So make sure you get up and move around often. Even a simple stretch or a short walk up and down some stairs or around your home can be great options while we are practicing physical distancing. If you are going outside, practice physical distancing and keep 6ft or 2 metres away from others. In addition, there are many at home workouts available online and through apps!
For more information:
Simple exercises at home by Hong Fook Mental Health Association:
Other physical exercise resources (Chinese):
Baduanjin qigon (八段錦)
Mandarin video:
Cantonese video:
Beginner's Yoga video (Cantonese)