This post is also available in: 简体中文 繁體中文
Asian communities have been affected by this pandemic, and that is happening for small businesses too, in particular for Chinese and Asian-owned businesses. As the unemployment rate is growing, industries are faced with much uncertainty. For our upcoming Resiliency Dialogue (9), we will be discussing some of the challenges and strategies faced by these businesses. We will see you Jan 21st 2021, 8pm EST!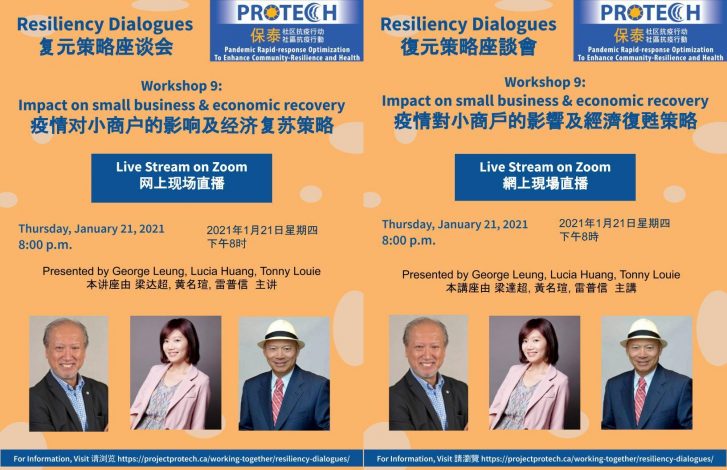 About Speakers:
George Leung 梁達超
George Leung is a recently retired BMO Commercial Banker. For over 40 years George has been working for Bank of Montreal under various roles in both personal and commercial banking. From 1988 to 2002, George was a senior manager of Asian Banking Division for GTA. He has a deep understanding of the Chinese community in Toronto and has worked with many commercial businesses during his tenure.
Lucia Huang 黃名瑄
Lucia Huang, Project and Event Manager at Chinatown BIA. Using her bilingual skill as a new immigrant, she established a deep connection with the community; she keeps discovering the charm of Chinatown and is passionate about using a variety of ways to share them with Torontonians and people around the world.
Tonny Louie 雷普信
Tonny Louie, the Chair of Chinatown Business Improvement Area and the owner of Grossman's Tavern, graduated from the University of Toronto, B. Comm, a Registered Real Estate Broker. He came to Canada more than 50 years ago with his parents, has a deep connection with the community and has accomplished numerous community development and improvement projects.
Zoom Meeting Guidelines
We are here to uphold everyone's security in our diverse identities with understanding that this means different things to different people. To keep things running smoothly, it's important that everyone be thoughtful of others' experiences.
This is designed to be a non-judgmental space in general. In the name of equity, we must recognize that everyone is at a different place in their journey and that may affect how they behave in a group setting. This may naturally cause conflict that must be addressed by admin to ensure a peaceful environment. If there are any questions or concerns about this space or something that was said, please private message the hosts or co-hosts.
To strive to create a safe community for all, instances of racism, cissexism, classism, sexism, colorism, sizeism, ableism, or any bigotry and other -ism will not be tolerated.
We will not tolerate online harassment of any kind.
In order to set some boundaries so as to not harm others, intentionally or otherwise, by attending to this session, please read and agree to the following:
Keep your mics muted unless you wish to speak
Ensure minimal background noises and movement
Dress appropriately. Participants must be fully clothed during the session
Ensure that anything shown on the camera is appropriate and not offensive
When turning on your cameras to use the video option, only show the upper portion of your body (head, neck, shoulders)
Do not take screenshots of conversations here
Be courteous and respectful of other participants'
If anyone is consciously disrespectful of others and does not take accountability, they will be removed and banned