This post is also available in: 简体中文 繁體中文
Project PROTECH's 7th Resiliency Dialogue will take place on Thursday, December 17, 2020 at 8pm EST. This session will keep talking about racism.
It is not unknown that there is a significant rise in racism towards Asian people during this pandemic. Asian people are faced with being blamed for the virus. There is an increase in reports related to attacks on Asians due to COVID-19. Asians have been the media's target in statements made by politicians, several social media platforms, and many violent physical attacks. Asians are harassed in public, yelled at in supermarkets and accused of bringing the virus. What are some of the racial issues that are occurring with the Public Service sector during this pandemic? For this panel discussion, we invite members working in the public service to join us and discuss some case scenarios and strategies.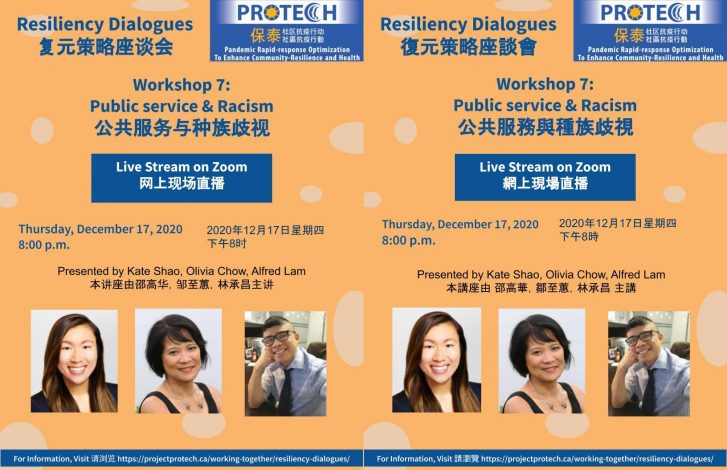 About the Panelists:
About Speakers:
Kate Shao邵高华
Kate Shao (she/her) is a labour and employment lawyer at the City of Toronto and sits on the Board of Directors for the Chinese Canadian National Council (Toronto Chapter). Prior to joining the City's Legal Services Division, she worked as a Human Rights Consultant and practiced at a labour and employment boutique in Toronto. Kate maintains a diverse legal practice, which includes litigating and advising on matters of human rights, employment standards, and health and safety. Kate received a Juris Doctor from the University of Toronto and a Bachelor of Arts (Honours with Distinction) in Political Studies and Global Development from Queen's University. Kate was called to the Ontario Bar in 2018.
For over thirty years, Olivia Chow has been an effective and well-known public figure, serving in Toronto's municipal politics and on the national stage as a Canadian Member of Parliament. She was voted Best City Councillor seven times by readers of NOW magazine and Best MP in 2010. Readers of the Toronto Sun voted her Top Torontonian in 2012 and Canadian Immigrant magazine named her as one of Canada's Top 25 Immigrants.
Olivia's career has been all about creating lasting change. Olivia was born in Hong Kong and moved to Toronto with her parents when she was thirteen. She studied Philosophy and Fine Art at university, and has worked as a college professor, an ESL teacher, a counsellor for new immigrants, and a sculptor.
In 2015, Olivia Chow joined Ryerson University as a Distinguished Visiting Professor. Her work focuses on community engagement and leadership development.
She founded the Institute for Change Leaders, Olivia and her team of 30+ trainers have taught community and political organizing to over 5000 people since March of 2015.
Alfred Lam 林承昌
Alfred Lam works for the Centre for Immigrant and Community Services as the Manager of the Markham South Welcome Centre, part of a system of 5 centres in York Region that provides all the essential services that newcomers need, all under one roof. Alfred specializes in innovative program design and collaborative leadership development. He is also a writer and an experienced motivational speaker with a passion for mental wellness advocacy. He is an ironman triathlete, and lives in Toronto with his wife Anna and two daughters, Taylor and MJ.
Zoom Meeting Guidelines
We are here to uphold everyone's security in our diverse identities with understanding that this means different things to different people. To keep things running smoothly, it's important that everyone be thoughtful of others' experiences.
This is designed to be a non-judgmental space in general. In the name of equity, we must recognize that everyone is at a different place in their journey and that may affect how they behave in a group setting. This may naturally cause conflict that must be addressed by admin to ensure a peaceful environment. If there are any questions or concerns about this space or something that was said, please private message the hosts or co-hosts.
To strive to create a safe community for all, instances of racism, cissexism, classism, sexism, colorism, sizeism, ableism, or any bigotry and other -ism will not be tolerated.
We will not tolerate online harassment of any kind.
In order to set some boundaries so as to not harm others, intentionally or otherwise, by attending to this session, please read and agree to the following:
Keep your mics muted unless you wish to speak
Ensure minimal background noises and movement
Dress appropriately. Participants must be fully clothed during the session
Ensure that anything shown on the camera is appropriate and not offensive
When turning on your cameras to use the video option, only show the upper portion of your body (head, neck, shoulders)
Do not take screenshots of conversations here
Be courteous and respectful of other participants'
If anyone is consciously disrespectful of others and does not take accountability, they will be removed and banned
Join Zoom Meeting
https://ryerson.zoom.us/j/98758498911?pwd=K3FOQ1FCcUY5NnZJYjVrTzdiemFRZz09
Meeting ID: 987 5849 8911
Passcode: 356551