This post is also available in: 简体中文 繁體中文
Project PROTECH's 6th Resiliency Dialogue will take place on Thursday, December 10, 2020 at 8pm EST. This session will have some meaningful discussion about the difficulties LGBTQ+people confronted in their social life.
The specific vulnerabilities of lesbian, gay, bisexual, and transgender (LGBTQ) people impacted by the COVID-19 pandemic are far more nuanced than what most people can imagine. Violence and discrimination against LGBTQ are widespread and happen far more often than we would like. COVID-19 has highlighted class divisions in multiple intersectional ways, and racialized LGBTQ people are too often marginalized in these nuanced intersectional ways.
For example, LGBTQ migrants and newcomers live precarious lives struggling with employment, settlement, citizenship, poverty, and isolation compounded by COVID-19. The lack of community and perhaps even family support due to homophobia and transphobia can cause people to spiral into numerous mental health challenges. Furthermore, dating in the midst of the pandemic does get any easier.
Join us as we invite activists from the LGBTQ+ community to share stories and strategies on dating and navigating forming relationships.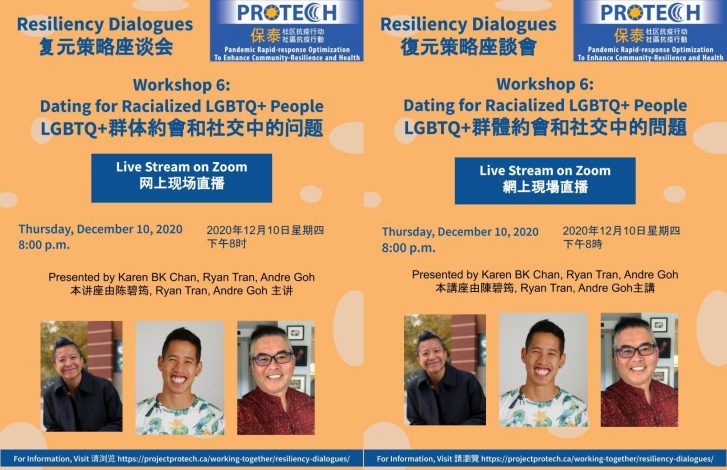 About the Panelists:
BK Chan
Karen B. K. Chan is an award-winning sex and emotional literacy educator in Toronto. BK's favourite things include stories, metaphors, diagrams, and things that make people laugh. Above all, BK works hard to have courageous conversations that are real, transformative, and kind.
Ryan Tran
Ryan Tran is currently the Manager of Education & Outreach at ACAS (Asian Community AIDS Services). He is a Vietnamese gay cis man born and raised in Toronto, Ontario, Canada. Starting at a young age leading his high school's then defunct Gay-Straight Alliance, he now has 15 years of combined volunteer and working experience within the LGBTQ community. As part of the ACAS Men's Program, he provides sexual health outreach, education, and one-on-one support to gay, bisexual, queer Asian men. Highlights include producing online sexual health videos, starting a harm reduction support group, and coordinating an annual community SLAM forum. He also helped in launching an inclusive Asian men's calendar promoting positive body image, a gay Asian speed dating event, and PinkDotTO. He spent 6 months in Thailand interning with local NGO's to support their work with HIV prevention and education. In his spare time he continues to be involved in community-led creative projects for Asian LGBTQ.
Andre Goh
Andre Goh has spent more than 30 years in human rights, advocating equality and equity for LGBTIQ East and South East Asians, building inclusive programming and initiatives in queer and heteronormative communities, and addressing racism, ageism, sexism and the many facets of isms that continue to plague our homes, neighbourhoods and communities. Widely considered a leading expert on organizational change for D&I, André has authored several publications and journals. His works include Customizing Diversity Training Using Your Neighbours, Diversity and Leadership: Tools in a Changing Environment, Building Inclusive Workplace, Voices of Diversity, and Cultural Competence in Emerging Communities. André was the recipient of prestigious awards and honours including the Canadian Multicultural Council's Outstanding Asian Canadian Awards, the TRIEC Immigrant Success Award, the City of Toronto LGBT Access Equity and Human Rights Award, and the Diversity Best Practices Diversity Officer Leadership Award.
Join our Zoom Meeting on Dec 10th at 8 pm! Zoom link: https://bit.ly/33IRrkV Meeting ID: 938 5517 7461 Passcode: 963793