This post is also available in: 简体中文 繁體中文
Our fourth Resiliency Dialogues (conducted in Mandarin) takes place Thursday November 26 at 6 pm EST.
As newcomers settling into this country, we may be busy looking for work, housing, and finding a sense of community and belonging, to create a place we can call home. But we may not always be aware of the rights we have. More and more, the East Asian community experiences discrimination with the rising challenges of this pandemic. What do we need to know about human rights as someone living in Canada? How can we better protect ourselves from racial discrimination?
Join us with Ariel Chih, Staff lawyer of the Chinese & SE Asian Legal Clinic, as she discusses some of the rights we are entitled to under the Human Rights Code.
Ariel Chih
Ariel is a Staff Lawyer at the Chinese and Southeast Asian Legal Clinic. Ariel was born and raised in Taipei, Taiwan. She obtained her JD from Osgoode Hall Law School in 2019, and was called to the bar in Ontario in 2020. During law school, Ariel participated in the Anti-discrimination Intensive Program, where she interned at the Human Rights Legal Support Centre and assisted Applicants with matters before the Human Rights Tribunal. Ariel speaks Mandarin, English, and some Taiwanese.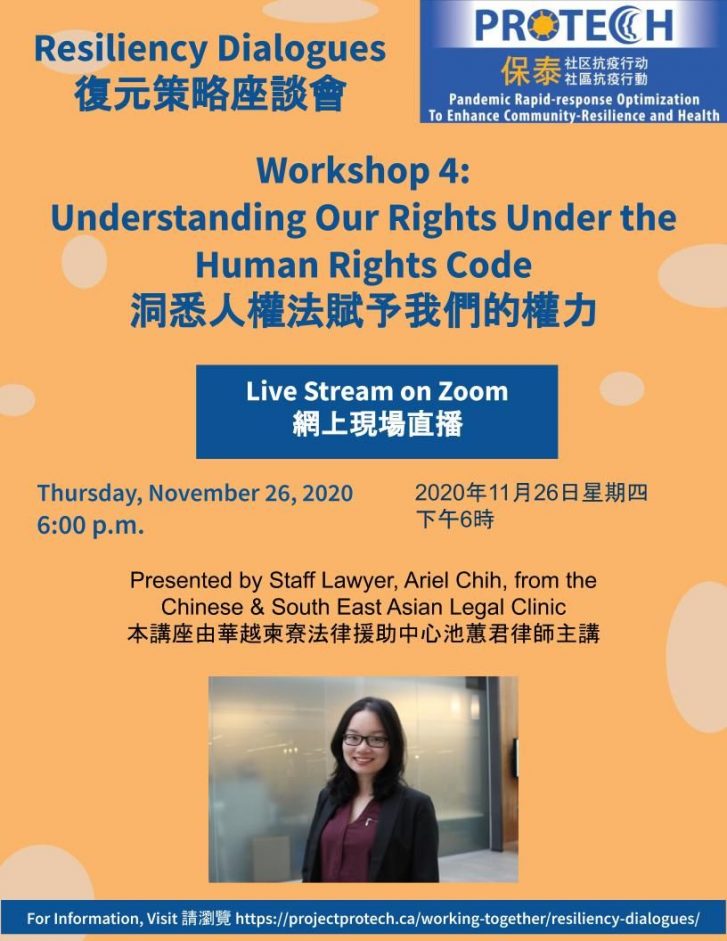 Feel free to contact our Community Engagement Coordinator