This post is also available in: 简体中文 繁體中文
Project PROTECH's 16th Resiliency Dialogue will take place on April 1st, 2021 at 8:00 pm EST. We have our PACER team with us for this episode. We will be hearing the frontline providers speak about their experience with the PACER Program.
PACER is a mindfulness and social justice-based group training, consisting of six interactive online learning modules and six corresponding weekly group video-conferences. PACER is designed to provide participants with tools to cope with COVID-19-related demands and challenges. PACER has been designed to support serve service providers from culturally diverse communities, including the service providers from Chinese Canadian communities that have continued to experience increased stigma and racism at work and in the community.
Register in advance for this webinar: https://ryerson.zoom.us/webinar/register/WN_7pqC3GNfQPGFRInZmCWNIw
After registering, you will receive a confirmation email containing information about joining the webinar.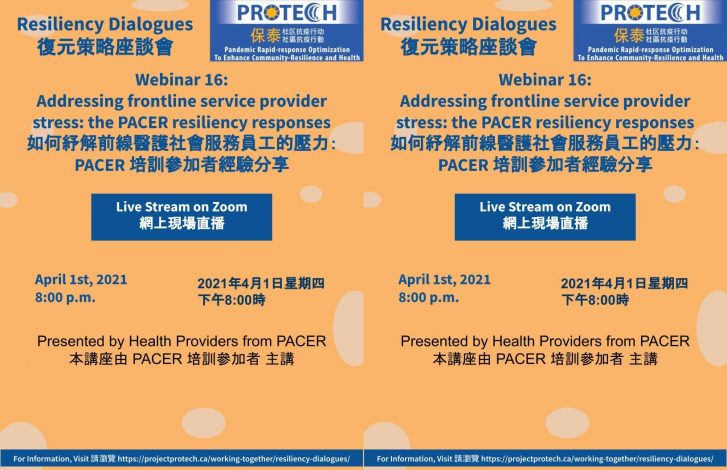 Zoom Meeting Guidelines
We are here to uphold everyone's security in our diverse identities with understanding that this means different things to different people. To keep things running smoothly, it's important that everyone be thoughtful of others' experiences.
This is designed to be a non-judgmental space in general. In the name of equity, we must recognize that everyone is at a different place in their journey and that may affect how they behave in a group setting. This may naturally cause conflict that must be addressed by admin to ensure a peaceful environment. If there are any questions or concerns about this space or something that was said, please private message the hosts or co-hosts.
To strive to create a safe community for all, instances of racism, cissexism, classism, sexism, colorism, sizeism, ableism, or any bigotry and other -ism will not be tolerated.
We will not tolerate online harassment of any kind.
In order to set some boundaries so as to not harm others, intentionally or otherwise, by attending to this session, please read and agree to the following.
To enter this webinar and speak, you must agree to the following:
You are muted during the webinar. If you would like to share or respond, please use the chat and ensure your chat message is directed to "Panelists and Attendees"
If you would like to speak, please use "Raise Hand" function. The host will unmute you to participate in the discussion.
When you join the video feed, please ensure minimal background noises and movement if your video is on when you speak. Dress appropriately. Participants must be fully clothed during the session, and ensure that anything shown on the camera is appropriate and not offensive.
Do not take screenshots of conversations here. Our recording will be shown later in our Youtube channel.
Be courteous and respectful of other participants'
If anyone is consciously disrespectful of others and does not take accountability, they will be removed and banned
Your continued participation in the webinar indicates you've read the above guidelines.