This post is also available in: 简体中文 繁體中文
Project Protech's 13th Resilience Dialogue series will talk about Solidarity With Black And Indigenous Communities in Confronting Racism. Markdown February 25, 2021, at 8 pm EST. Please register for this event in advance.
The COVID-19 pandemic has magnified some of the significant racial discrimination against various racialized groups. East Asian communities are not the only ones that have faced the impact of racial discrimination. Black and Indigenous people have historically and continue to face a wide range of injustices by the dominant culture. In this discussion, we will examine some of the ways that racial discrimination and injustice occurs for Black and Indigenous people within Canada.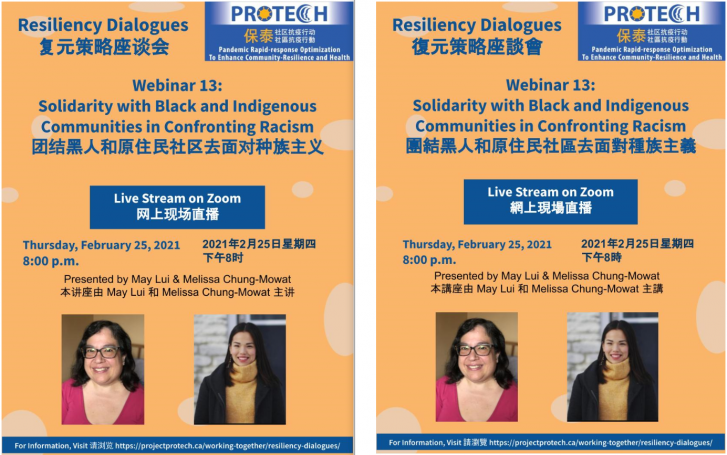 About Speakers:
May Lui (MEd, Lead Consultant, May Lui Consulting)
May (she/her) is mixed-race and light-skinned, a settler/immigrant descendant of Chinese and white/ European/ Jewish background. May is an activist, ally and resister against all forms of oppression and has been facilitating anti-oppression training and education since 1997.
Melissa Chung-Mowat
Melissa Chung-Mowat is of mixed-heritage, her father is of Chinese descent from Suriname and her mother is Metis, a descendant of the Red River Valley Metis. She was raised by her mom in Winnipeg, Portage la Prairie, and the Interlake region of Manitoba. She has spent her adulthood exploring her own identity as a mixed-heritage Indigenous woman and second generation Chinese Canadian in her studies, personal life, and in her career. For nearly a decade, Melissa has worked and volunteered for anti-poverty causes, and toward anti-racism and truth and reconciliation efforts. Much of this work has focused on training and employment initiatives for Indigenous peoples and new Canadians in Winnipeg. Melissa holds a Master of Arts in Immigration and Settlement Studies from Ryerson University and completed an undergraduate degree in Political Studies at the University of Winnipeg.
Register in advance for this webinar:
https://ryerson.zoom.us/webinar/register/WN_LTw-cYdvR0SDwSVcdJ1Bhg
After registering, you will receive a confirmation email containing information about joining the webinar.
Zoom Meeting Guidelines
We are here to uphold everyone's security in our diverse identities with understanding that this means different things to different people. To keep things running smoothly, it's important that everyone be thoughtful of others' experiences.
This is designed to be a non-judgmental space in general. In the name of equity, we must recognize that everyone is at a different place in their journey and that may affect how they behave in a group setting. This may naturally cause conflict that must be addressed by admin to ensure a peaceful environment. If there are any questions or concerns about this space or something that was said, please private message the hosts or co-hosts.
To strive to create a safe community for all, instances of racism, cissexism, classism, sexism, colorism, sizeism, ableism, or any bigotry and other -ism will not be tolerated.
We will not tolerate online harassment of any kind.
In order to set some boundaries so as to not harm others, intentionally or otherwise, by attending to this session, please read and agree to the following.
To enter this webinar and speak, you must agree to the following:
You are muted during the webinar. If you would like to share or respond, please use the chat and ensure your chat message is directed to "Panelists and Attendees"
If you would like to speak, please use "Raise Hand" function. The host will unmute you to participate in the discussion.
When you join the video feed, please ensure minimal background noises and movement if your video is on when you speak. Dress appropriately. Participants must be fully clothed during the session, and ensure that anything shown on the camera is appropriate and not offensive.
Do not take screenshots of conversations here. Our recording will be shown later in our Youtube channel.
Be courteous and respectful of other participants'
If anyone is consciously disrespectful of others and does not take accountability, they will be removed and banned
Your continued participation in the webinar indicates you've read the above guidelines.