This post is also available in: 简体中文 繁體中文
Project Protech's 11th Resilience Dialogue series will talk about the FaceRace campaign with CCNCSJ (The Chinese Canadian National Council for Social Justice). Markdown February 4, 2021 at 8 pm EST, registration required.
FaceRace is a collaborative grassroots anti-racism campaign created by partner organizations in the Chinese Canadian community in response to widespread fear and panic, resulting from the novel COVID-19 coronavirus pandemic in 2020. The FaceRace Campaign builds knowledge and awareness about anti-Chinese and Asian racism in Canada before and during the COVID-19 pandemic. It also aims to empower survivors of racism to identify and fight racism while promoting community resilience.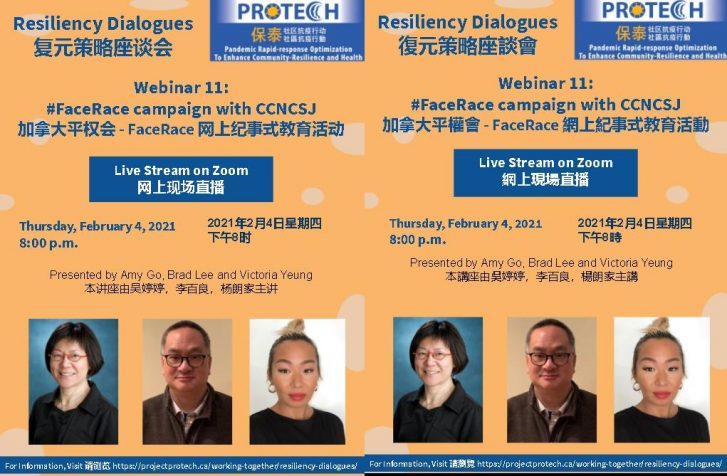 About Speakers:
Amy Go (CCNC SJ)
Amy Go, President of Chinese Canadian National Council for Social Justice is a social worker by training. For almost three decades, Amy worked in immigrant and community support services well as long term care. Amy has also been active in advocating for social justice for racialized communities.
Brad Lee
Brad Lee is the content strategist and writer for Chinese Canadian National Council for Social Justice's recently launched #FaceRace campaign. Brad has continued his involvement in Chinese Canadian community social justice projects since creating media and political strategy that helped bring about the Parliamentary apology in 2006 for the Chinese Head Tax and Exclusion Act. His projects include: the "Ties That Bind" history and retelling of the building of the CPR by descendants of Chinese railway workers (www.mhso.ca/tiesthatbind); "Road to Justice", a legal history of 62 years of legislated racism against Chinese Canadians (www.roadtojustice.ca); "Operation Oblivion" a co-produced television documentary on Chinese Canadian commandos in WW2 (www.OperationOblivion.com), and the recent CCNC-SJ contribution to the "Toronto For All Campaign". Brad is a former journalist who has worked in Asia and Canada.
Victoria Yeung
Victoria is a second-generation Chinese Canadian with over seven years' experience in the non-profit industry producing events and managing projects. Originally from Vancouver, she majored in sociology at UBC, and strives to bring fun and a critical lens to her work in the queer arts, fundraising, and social justice movements.
Zoom Meeting Guidelines
We are here to uphold everyone's security in our diverse identities with understanding that this means different things to different people. To keep things running smoothly, it's important that everyone be thoughtful of others' experiences.
This is designed to be a non-judgmental space in general. In the name of equity, we must recognize that everyone is at a different place in their journey and that may affect how they behave in a group setting. This may naturally cause conflict that must be addressed by admin to ensure a peaceful environment. If there are any questions or concerns about this space or something that was said, please private message the hosts or co-hosts.
To strive to create a safe community for all, instances of racism, cissexism, classism, sexism, colorism, sizeism, ableism, or any bigotry and other -ism will not be tolerated.
We will not tolerate online harassment of any kind.
In order to set some boundaries so as to not harm others, intentionally or otherwise, by attending to this session, please read and agree to the following.
To enter this webinar and speak, you must agree to the following:
You are muted during the webinar. If you would like to share or respond, please use the chat and ensure your chat message is directed to "Panelists and Attendees"
If you would like to speak, please use "Raise Hand" function. The host will unmute you to participate in the discussion.
When you join the video feed, please ensure minimal background noises and movement if your video is on when you speak. Dress appropriately. Participants must be fully clothed during the session, and ensure that anything shown on the camera is appropriate and not offensive.
Do not take screenshots of conversations here. Our recording will be shown later in our Youtube channel.
Be courteous and respectful of other participants'
If anyone is consciously disrespectful of others and does not take accountability, they will be removed and banned
Your continued participation in the webinar indicates you've read the above guidelines.