This post is also available in: 简体中文 繁體中文
Happy New Year to our community members, partners and supporters. Project PROTECH's community partners' showcase series continues, and we have many more exciting episodes to bring to you throughout this year!
Our 2021's first Community Partners' Showcase series will be released on our YouTube channel on Tuesday, Jan 12th, 2021, at 6 pm EST. In this episode, we've invited a staff of the Youth Program at Hong Fook Mental Health Association to do the show with us.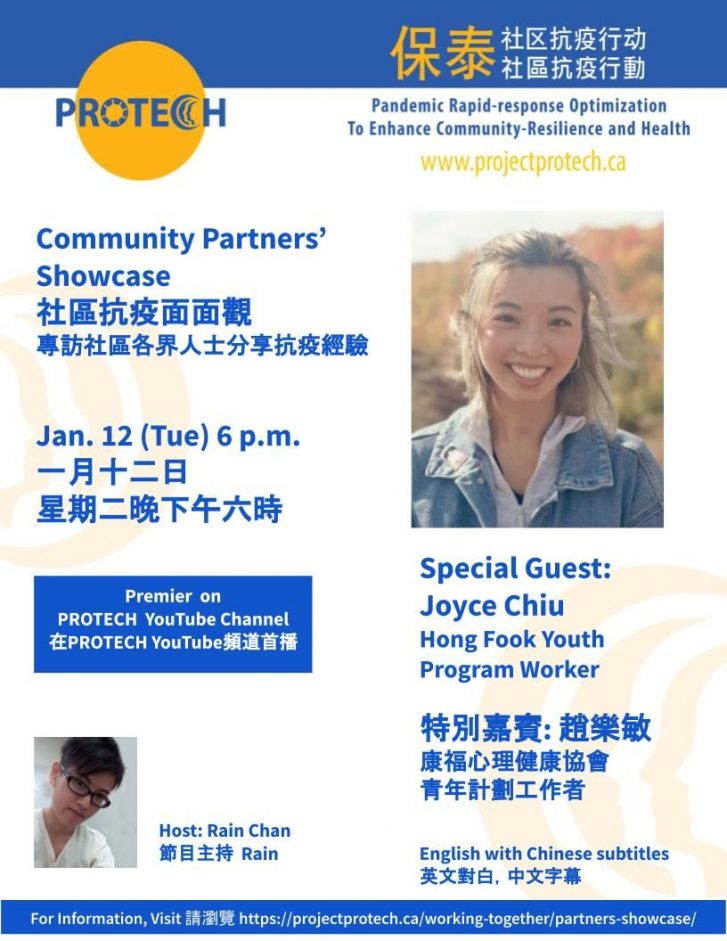 Hong Fook, meaning "Health" and "Felicity" in Chinese, has been serving the Asian communities in the Greater Toronto Area since 1982. Hong Fook addresses the mental health concerns of the Cambodian, Chinese (Cantonese and Mandarin), Korean and Vietnamese communities. Clinical services including intake, case management, support with housing, group psychotherapy, and Asian community psychiatric clinic. Hong Fook also offers self-help programs, family initiatives, prevention and promotion programs, youth programs and training programs.
For many youth, Hong Fook is a safe space to speak about their academic stressors and settlement challenges. For many youth, Hong Fook staff are reliable mentors guiding them through communication skills with peers, teachers and parents. Hong Fook's Youth and Family Program aims at promoting the resiliency of East Asian youth and their family members and caregivers.

In this interview, we will focus on some of the programs offered to youth during this pandemic, and some of ways Hong Fook offers support for the youth.
On January 19th, we will also invite two more staff from Hong Fook to speak about Hong Fook Mental Health Association and give us an overview of the organization. Stay tuned for more!
About the speakers:
Joyce Chiu 趙樂敏
Joyce is a Chinese-Canadian working with youth in Toronto and York Region. She is particularly interested in the ways which race and culture influence access to mental health care. She is passionate about providing opportunities for youth to explore who they are, their social identities, and to share their lived experiences. She is currently a Youth Program Worker at Hong Fook Mental Health Association, where she focuses on building resilience, social connections, and community initiatives for East Asian youth
Please subscribe to our YouTube channel to check out more showcase series coming up!