This post is also available in: 简体中文 繁體中文
Project Protech's 21st Community Partner's Showcase series will be released Tuesday, April 20th at 6 pm EST on our YouTube channel. We have invited For A Safer Space and its founder Katherine Zhu for this episode. Stay tuned!
For A Safer Space is the a non-profit organization dedicating to provide accessible, affordable, and affirming mental health care and human rights-related advocacy support. We are currently operating out of Toronto, Ontario. It provides a free listing platform for licensed mental health professionals that belong to traditionally marginalized groups, offer online mental health programming, hold systems navigation support events on topics relevant to our community members, and our counselling/social work interns offer long-term free mental health services and case management services to people in need.
For a Safer Space is a completely free platform that offers human rights advocacy-related services including a free listing platform for therapists and free long-term mental health services that are offered by counselling/psychotherapy/social work interns to people across the globe. FASS has partnered with universities across North America and Europe, bringing together interns who are doing social work or counselling degrees and pairing them with someone who needs access to affordable mental health care.
For A Safer Space is a 100% permanent remote environment. There is no physical accessibility barrier, and we strive to make our website accessible to everyone.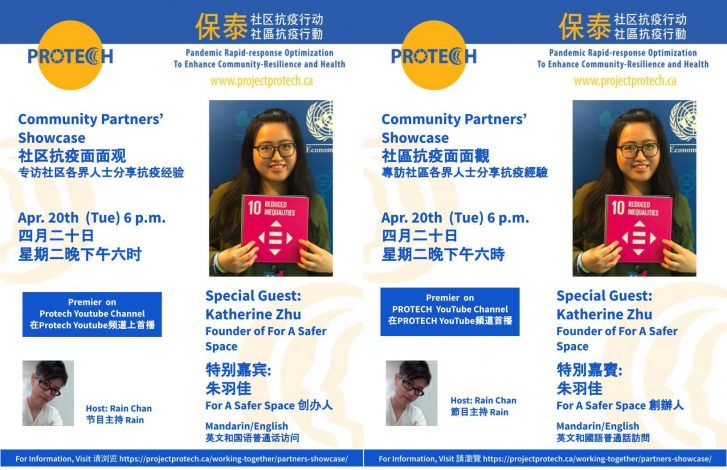 About the speakers:
Katherine Zhu is an entrepreneur with a tenacious desire to learn and share her knowledge with others. She received her HBA from the University of Toronto studying women and gender studies, sexual diversity studies, religion, and Jewish studies.
After receiving her masters in social work from Columbia University In the City of New York, Katherine began working as a registered social worker, psychotherapist, running her own private practice. When the pandemic hit, she saw an increased need for mental health services paired with a decrease in ability to afford it as unemployment hit an all-time high. This dichotomy sparked Katherine's desire to start For a Safer Space, an NGO that provides exactly what the name describes.
Katherine knew that people needed easier access to support during this global crisis and continues to offer it, benefiting hundreds of lives. She is also the co-founder of Asian Care Fund and Mind Harbour.
Please subscribe to our YouTube channel to check out more showcase series coming up!