This post is also available in: 简体中文 繁體中文
In this week's Community Partners' Showcase series, we will be with Hong Fook Mental Health Association again! Different from last week's episode, in which we focused on the youth program, this week we will share more about body-mind wellness work they've been doing in the community. This new video will be released on our YouTube channel on Tuesday, Jan 19th, 2021, at 6 pm EST. Stay tuned!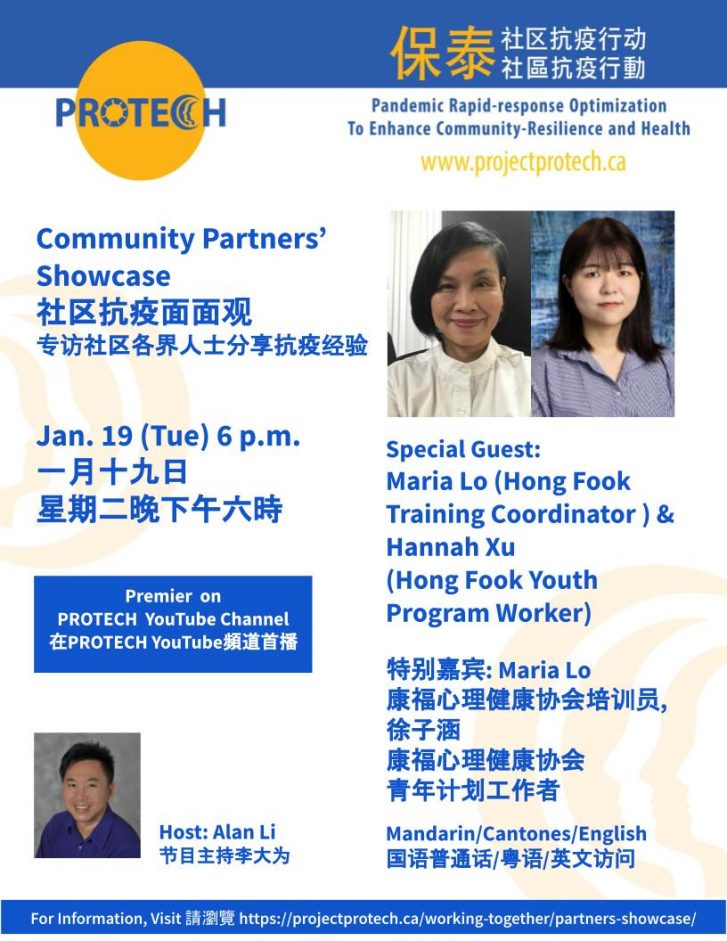 Hong Fook, meaning "Health" and "Felicity" in Chinese, has been serving the Asian communities in the Greater Toronto Area since 1982. Hong Fook addresses the mental health concerns of the Cambodian, Chinese (Cantonese and Mandarin), Korean and Vietnamese communities. Clinical services including: intake, case management, support with housing, group psychotherapy, and Asian community psychiatric clinic. Hong Fook also offers self-help programs, family initiatives, prevention and promotion programs, youth programs and training programs.
About the speakers:
Maria Lo, Hong Fook Mental Health Association Training Coordinator
Maria currently works at Hong Fook Mental Health Association. Since 2008, she has been responsible for the training of community settlement counselors as well as promoting body mind wellness in the community.
Hannah Xu
Hannah is the youth program worker at Hong Fook Mental Health Association, working with East Asian youth and their family members and caregivers to promote their resiliency.
Please subscribe to our YouTube channel to check out more showcase series coming up!