Prompts and coping tips may improve mental health for people in minority groups
Many people stayed at home to protect themselves from COVID-19 infection, but no one could avoid all of the biological, social, and psychological impacts of the pandemic. People reported disrupted sleep and vivid nightmares. Divorces and breakups significantly increased between 2019 and 2021. And many people coped with stress by smoking cigarettes, using cannabis, drinking more alcohol, and over- or undereating.
"The pandemic has put so much stress on our minds and our bodies," said Michael J. Zvolensky, Ph.D., Hugh Roy and Lillie Cranz Cullen Distinguished University Professor of psychology at the University of Houston. The science supports his conclusion: Research shows that the global prevalence of depression and anxiety increased by more than 25% in the first year of the pandemic.
However, the pandemic has not affected everyone equally. People who are already living with anxiety, depression, and other stress-related conditions have had worse symptoms. According to Michael Businelle, Ph.D., co-director of the Tobacco Settlement Endowment Trust Health Promotion Research Center and professor in family and preventive medicine at the University of Oklahoma Health Sciences Center, "Black, Latinx, and American Indian people have experienced greater COVID-19–related burden due to disparities in access to care and job security. They also had higher infection rates and deaths due to COVID-19 and experienced collective trauma due to racial justice issues." These issues have led to even more depression and anxiety in these populations.
Zvolensky and Businelle are principal investigators on a $2.7 million grant from the National Institute of Mental Health (NIMH), part of the National Institutes of Health, to study the impact of a mobile health app on depression and anxiety related to and made worse by the COVID-19 pandemic.
The newly developed Easing Anxiety Sensitivity for Everyone (EASE) app was designed to educate people about anxiety and depression, help them monitor symptoms, and give them strategies to manage their symptoms. The study will determine whether the app can help reduce a user's symptoms and improve their quality of life. Researchers will also assess how different stressors affect people from various racial and ethnic groups.
The study will involve 800 participants: 200 Black, 200 Latinx, 200 American Indian, and 200 non-Latino White people. Although the study is currently recruiting participants in the investigators' home states of Oklahoma and Texas, the team hopes the study will expand to other states.
Focusing on Anxiety Sensitivity to Improve Quality of Life
The EASE app will focus on reducing a phenomenon known as anxiety sensitivity to help people experiencing depression and/or anxiety during the COVID-19 pandemic. Zvolensky explained that our bodies respond to stress in many ways, including shortness of breath, racing thoughts, abnormal sleep patterns, and even pain. "A person with high anxiety sensitivity will interpret these physical responses to stress or anxiety as threatening. This perceived threat exacerbates these physical responses, and the person is unable to lessen or stop their symptoms." The inability to cope with these physical responses to stress can lead to negative reinforcement and result in more severe anxiety or depression.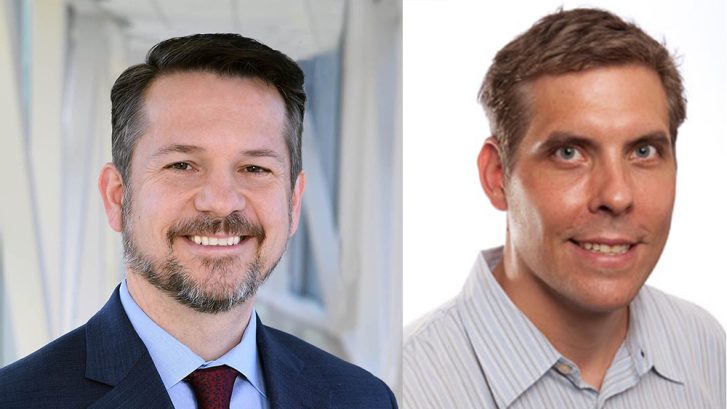 The EASE app addresses anxiety sensitivity in three ways. First, the app educates the user about pandemic-related stress and how it influences mental and physical health. There are examples of how this stress can affect everyday life, such as job or school performance and interpersonal relationships. The app also teaches users how stress can increase a person's risk for COVID-19 infection or prolong their case of COVID-19.
Second, the app provides cognitive and behavioral therapeutic strategies for dealing with symptoms associated with high anxiety sensitivity. "Our app explains how anxiety sensitivity exacerbates the physical responses to anxiety and depression and gives participants behavioral exercises that can help them adapt to and decrease these symptoms," Zvolensky said. "The goal is to have people mindfully attend to these symptoms when they occur."
Finally, the EASE app allows participants to track their stressors, physical and behavioral symptoms, and any COVID-19 symptoms, if applicable. The app will then provide real-time feedback if it detects that a person is experiencing anxiety, depression, and/or high anxiety sensitivity.
For example, a study participant who has logged several stressors — such as problems with their job and an unknown respiratory illness that may be caused by COVID-19 — will receive an automated alert from the app. This alert tells the participant that they are vulnerable to a physical stress response and reminds them about the coping strategies they have to deal with these symptoms. People can also contact the research team if they need immediate help.
By tracking symptoms and stressors, the app provides real-time educational and therapeutic support for users, according to Zvolensky. "The app allows us to communicate and provide help from afar without the person having to wait for their next therapy appointment."
Understanding Depression and Anxiety in American Indian Populations
Lancer Stephens, Ph.D. (Wichita/Creek), an associate dean for sovereignty, equity, diversity, and inclusion and associate professor for the Hudson College of Public Health at the University of Oklahoma Health Sciences Center, is a co-investigator on the EASE study. He is assisting with recruitment of American Indian participants in Oklahoma to ensure that the study can show whether EASE is helpful for American Indians. Of the 574 federally recognized tribes in the United States, 38 are present in Oklahoma.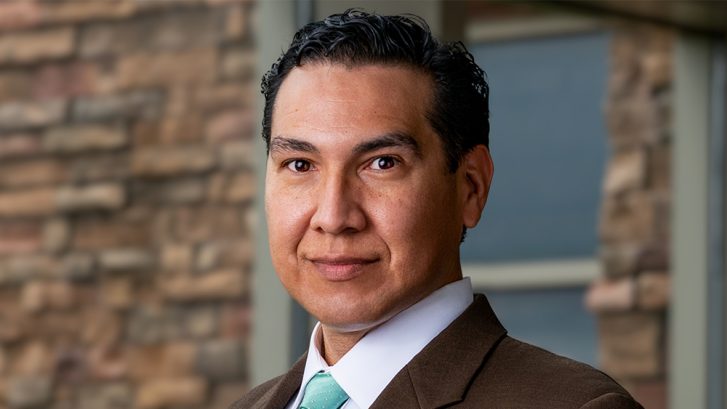 The unique stressors of American Indian populations, including stressors based on historical experience, could influence those groups' experiences with mental health issues such as depression and anxiety. "Massive death from previously unknown diseases brought by settlers, theft of land, boarding schools, the Indian Removal Act and forced assimilation of American Indians to White culture, and continued racism have contributed to a loss of identity that still impacts our Tribal Nations today," Stephens said.
During the pandemic, COVID-19 infection rates, hospitalizations, and deaths among American Indians in Oklahoma have been comparable to those for other Oklahomans, Stephens acknowledged. However, in other areas of the country, the disease burden was much higher for American Indians than for other groups.
American Indians are not the only people whose mental health has suffered during the pandemic. Early in 2021, more than 40% of U.S. adults had symptoms of an anxiety or depressive disorder. The EASE app study will uncover how anxiety sensitivity manifests itself in Black, Latinx, American Indian, and non-Latino White populations and help researchers understand how people in these groups respond to different behavioral strategies.
"The app allows us to communicate and provide help from afar without the person having to wait for their next therapy appointment." —Michael J. Zvolensky, Ph.D.
The Impacts of Accessible Mental Health Support
Virtual health became a necessity during the COVID-19 pandemic. Because of its success and convenience, virtual health may be here to stay. Zvolensky, Businelle, and Stephens expressed excitement about how mobile app–based health may improve mental health treatment accessibility.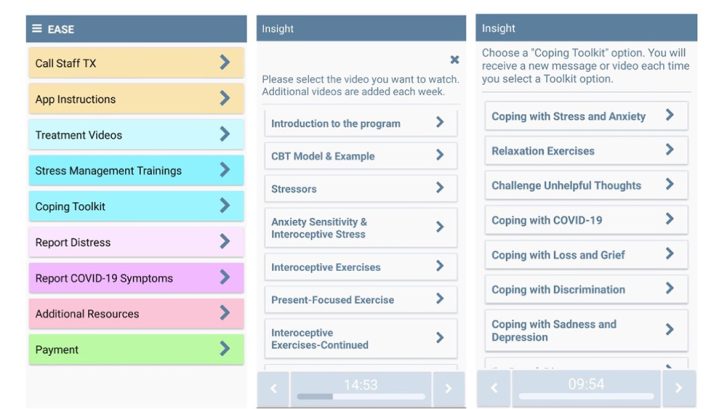 Zvolensky said he was initially skeptical about whether virtual health could actually promote change in health behaviors, but he has been blown away by the response to these apps. "People open the app daily and can engage with various aspects of the app at their own convenience," says Zvolensky. "This flexibility and ease of access might help with overcoming traditional treatment barriers, especially for underserved groups who may be less likely to receive care."
Stephens is also hopeful that resources like the EASE app can help reduce the stigma associated with mental health issues. "Many people needlessly suffer in silence with their own stress and anxiety, believing these are things you had to live with. While I know I can't participate in this study, I would be very interested in this app for my own mental health needs and would encourage anyone to participate. Together, we can raise mental health awareness to the forefront of public health."
Article From: The National Institutes of Health (NIH)