Our second last Resiliency Dialogue about COVID-19 Vaccines' information has attracted a lot of attention and gained support from many people in the communities. We've received various questions during and after the webinar. Protech has collected all the questions and decided to have this vaccine Q&A session continues with Dr. Darrell Tan, a clinician-scientist with the Division of Infectious Diseases at St. Michael's hospital and an Associate professor at the University of Toronto with the department of Medicine.
The only difference is that instead of a live stream webinar,  we have this session done in a pre-recorded video format and we will show you on our Youtube channel this Thursday, Apr 8th at 8 pmEST.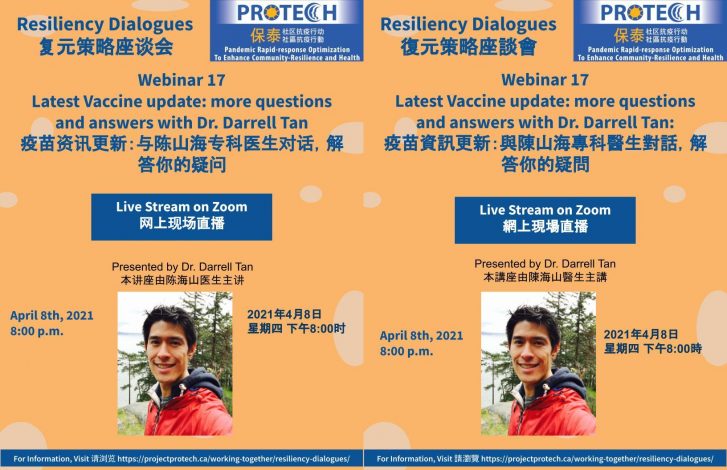 April 8th, 2021
8:00 p.m.
The vaccine rollout has generated much discussions amongst our community. Join us once again with Doctor Darrell Tan as he provides us in greater details regarding the vaccines and what we need to know.
Bio:
Dr. Tan is an Associate Professor in the Institute of Health Policy, Management and Evaluation and in the Department of Medicine at the University of Toronto. He is an infectious diseases physician and Clinician-Scientist at St. Michael's Hospital, where he leads the Options Collaboratory in HIV/STI Treatment and Prevention Science (www.optionslab.ca). His research focuses on clinical trials and implementation science in the areas of HIV prevention and treatment, sexually transmitted infections (STIs), and COVID-19.