This post is also available in: 简体中文 繁體中文
Ontario will enter the first step of its reopening plan on Friday, allowing non-essential retail stores to reopen for the first time in months and bars and restaurants to begin serving customers on their patios in time for the weekend.
The Ford government had previously set a target date of June 14 to formally enter the first step of a three-step reopening plan but it has opted to instead do so as of 12:01 a.m. on Friday.
The move comes hours after Ontario reported 525 new cases of COVID-19, its lowest single-day number since Sept. 27.
Hospiltizations have also steadily declined and as of today there are only 497 COVID-19 patients in the ICU, down nearly 20 per cent from this time last week.
"It's a combination of factors. One is of course the vaccination rate. We now have over 72 per cent of adults age 18 or older having received at least the first dose of the vaccine but it's also the fact that our numbers in our hospitals have rapidly reduced," Health Minister Christine Elliott told CP24 in explaining the change in timeline. "We have 525 new cases today 467 people in intensive care (after 30 transfers from Manitoba are excluded) That's also a pretty dramatic reduction."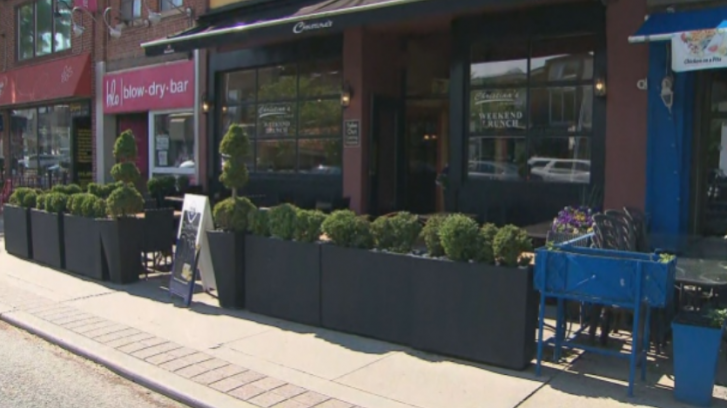 The first step of Ontario's reopening plan will allow all non-essential retail stores with street-front entrances to reopen at 15 per cent capacity while permitting outdoor gatherings and organized public events of up to 10 people.
It will also allow for outdoor fitness classes and personal training sessions, as well as overnight camping at campgrounds and campsites and day camps for children.
Here is a full list of what is and isn't permitted during stage one of the province's reopening plan
The second step represents a broader economic reopening but will not take place until at least 21 days after the first stage begins.
That means that residents will likely still have to wait until Canada Day to get a haircut or partake in even a small indoor gathering of five people or less. Meanwhile, gyms and indoor movie theatres will remain closed until the third and final step, which isn't expected until later in July.
Speaking with reporters during a briefing on Monday afternoon, Chief Medical Officer of Health Dr. David Williams said that officials wanted time to review more data to ensure there was no pronounced uptick in transmission as a result of the Victoria Day long weekend and have now concluded that any impact was "minimal."
He said that it also appears as though Ontario's vaccination program is "tempering" any growth in case counts that might be expected from the presence of the Delta variant first detected in India.
"I think with our levels of vaccination of first dose it is my hope that we can get through this phase while getting our second dose rate up as quickly as possible and the rates will continue to decline," he said. "I am hoping that in the next few weeks we will see our case numbers drop below 500 a day and then down below 400 a day. Remember way back last summer in August we were talking about numbers of 60 to 80 cases in a day for the whole province. I think we can see that again."
Hundreds of patios already installed across city
In Toronto, city crews began installing CafeTO patios nearly a month ago in anticipation of today's news.
It is expected that there will be more than 1,000 patios in curb lanes and on sidewalks as a result of the program, 200 more than last summer.
Patios will be permitted to go back to regular hours of liquor service set out in the Liquor Licence Act as of Friday. Restaurants and bars can seat four people to a table or more if everyone at the table is from the same household.
There is no set capacity for restaurant patios but tables will have to be separated by at least two metres.
"It is going to be a celebratory moment when our patios open," Queen West BIA Manager Meg Marshall told CP24 on Monday afternoon. "We can go back to a life we once knew enjoying the city and enjoying the night life so this really, really is exceptional news."
Malls will remain closed for now
While step one of the province's reopening plan will allow many retail stores that have been closed since early April to reopen it will continue to keep malls shuttered with only stores featuring street-front entrances permitted to open.
A range of indoor business will also remain closed with some likely not reopening until Ontario enters step three later this summer.
"It is good news that finally, finally, finally Ontario is set to end the worlds longest set of lockdowns and that we are now at the point where we are going to have retailers and restaurant patios open but we have been hearing in droves from small retailers that are in malls that don't have an exterior door that will remain closed," Canadian Federation of Independent Business President Dan Kelly told CP24 following the Ford government's announcement. "Hair salons, nail salons, tattoo parlours, they will remain closed. Indoor restaurant dining that has been happening in other jurisdictions with limited capacity forever is still not on the horizon and gyms, any kind of indoor activity (will mostly remain closed), gosh the list goes on and on."
The province has said that it will not enter step two of its reopening plan until at least 20 per cent of adults have received at least two doses of COVID-19 vaccine "and there are continued improvements in other key public health and health system indicators."
Kelly, however, said that he would like to see the province add more businesses to the list of those permitted to operate during the first step.
"Businesses are desperate," he said.
Article From: CP24
Author: Chris Fox