This post is also available in: 简体中文 繁體中文
Capacity limits begin to lift Monday after no major rise in infections following Thanksgiving
Ontario plans to lift all remaining public health measures including proof of vaccination and mask requirements indoors by March 2022.
The province says the removal of the measures will take place "slowly and incrementally" over the next six months, guided by ongoing monitoring of key public health indicators.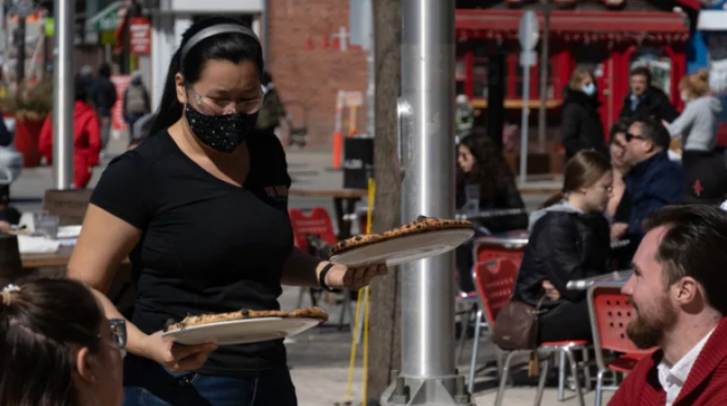 Those indicators include: whether any new COVID-19 variants arise, how many people are in hospital and ICU with the illness, and if the province once again sees a rapid increase in transmission of the disease.
Here's a timeline of what you can expect:
Oct. 25: The province will lift capacity limits in the majority of settings where proof of vaccination is required including restaurants, indoor sports facilities and gyms, casinos, bingo halls and indoor meeting and event spaces. Personal care services like barber shops and salons can also do away with capacity limits if they require proof of vaccination.
Nov. 15: The government plans to lift capacity limits in remaining higher-risk settings where proof of vaccination is required, including night clubs, wedding receptions in spaces where dancing is involved, strip clubs, bathhouses and sex clubs.
Jan. 17: Assuming the holidays don't contribute to any "concerning trends," the plan is to lift capacity limits in places where proof of vaccine is not required. At the same time, proof of vaccine requirements may also be lifted for restaurants, bars and sports facilities.
Feb. 7: The province plans to lift proof of vaccine requirements in high-risk settings including night clubs, strip clubs, bathhouses and sex clubs.
March 28: Ontario plans to lift mask-wearing requirements in indoor public spaces, as well as remove proof-of-vaccine requirements for all remaining settings. Capacity limits and public health measures could be re-introduced at local levels to manage COVID-19 as needed.
Asked if masking requirements will also be lifted for classrooms by March, Ford didn't answer explicitly, saying all decisions will be informed by the key indicators as well as advice from the chief medical officer of health.
'Continued vigilance' required in months ahead: top doctor
The province also says it intends to allow for greater capacity at organized public events such as Remembrance Day ceremonies and Santa Claus parades, with more details coming in the near future.
"We are now in a position where we can see the proposed plan for lifting the remaining public health and workplace safety measures in Ontario," said Dr. Kieran Moore, the province's chief medical officer of health, in a news release Friday.
"The months ahead will require continued vigilance, as we don't want to cause any more unnecessary disruption to people's everyday lives."
"This is a cautious plan," said Ford, that sticks with what has worked for Ontario."It will do everything possible to avoid broad lockdowns."
Ontario is "currently trending toward the best-case scenario," Moore said, adding 87.7 per cent of eligible Ontarians have now received at least one dose of a COVID-19 vaccine, while 83.6 per cent have taken two doses.
Meanwhile, Ontario's science advisory table said Friday the fourth wave of the pandemic in Ontario is receding, but keeping some health measures in place while vaccinating children will keep it under control. Things like masking, vaccine certificates and improvements to ventilation in indoor settings will help to ensure the pandemic continues to wane, the group said.
Ontario has been at Step 3 of what the government calls its "Roadmap to Reopen" since mid-July. Last Wednesday, CBC News reported the province's strategy for lifting pandemic restriction would be unveiled this week.
Ford has said the new plan will provide a long-term vision, and will involve applying any new restrictions in tailored and localized ways with the aim of avoiding further shutdowns.
Currently, fitness centres in Ontario are limited to 50 per cent capacity. At restaurants and bars, capacity is also limited to ensure patrons of different groups maintain a distance of two metres.
The official said the plan will also signal when physical distancing and capacity limits can be lifted in settings where proof of vaccination is not required, such as places of worship.
Despite the recent holiday weekend and students recently heading back to school for in-person classes, the pandemic continues to recede in Ontario. The seven-day average of new daily cases has been falling since Sept. 5 and now stands at 406, while the burden on hospitals has remained relatively steady.
Article From: CBC news
Author: With files from Meagan Fitzpatrick