Chinatown is again facing a period of change and uncertainty with businesses battered by COVID lockdowns, with Anti-Asian Racism and with development pressures in Toronto's over-heated property market. Some of us got together hoping to put a face to our community to show what and where in Chinatown we work, shop, eat and love.

Chinatown needs your support Now! We invite you to send us your stories of Chinatown, your selfies, your old family photos. These will be displayed in a public art exhibition on various locations around Spadina & Dundas in Aug 2021. We hope to celebrate the faces of our diverse Chinatown community, and to say to you all, "冇見好耐" in person this summer!
About the Project
"Moh Gihn Ho Noi,"  (didn't meet you for such a long time), translated into pidgin English became  "long time no see."  This expression comes from the earliest Chinese sojourners and settlers who came from the four counties in the Toisan region.   In the 1850's American and British contractors began bringing Chinese men over to the North American west coast to use as cheap labour.  The seaports in the south of China, far away from the eyes of Beijing, allowed people living in the Toisan area, poverty stricken at the time, the opportunity to find work to support their families.  

For well over 100 years Toisan was the language of North American Chinatowns.  Many of the "loh wah kiew" (old overseas Chinese), in creating and sustaining "Chinatown", experienced social, emotional and financial hardship in Canada, suffering the early riots and looting, displacement and discriminatory laws passed by our government specifically targeting the Chinese, which has an even longer history passing laws targeting Indigenous peoples.  

Over the years Chinatown has been a place of refuge for all kinds of people, pushed out of or made to feel unwelcome in other places. "Long Time No See" takes place in downtown Chinatown, also referred to as Dundas Spadina Chinatown.  Spadina, from the Ojibwe "Ishpadinaa," has been an Indigenous trading network and place to gather for thousands of years, reminding us that we are guests on this land.   Many Chinese children grew up being told to be "haak hei" when visiting someone's home.  "Haak hei," often involving polite manners and bearing gifts,is a way to show respect to the hosts by being thoughtful and gracious guests.   How can we, as individuals and collectively, be better guests on this land?  How will we support Indigenous rights?­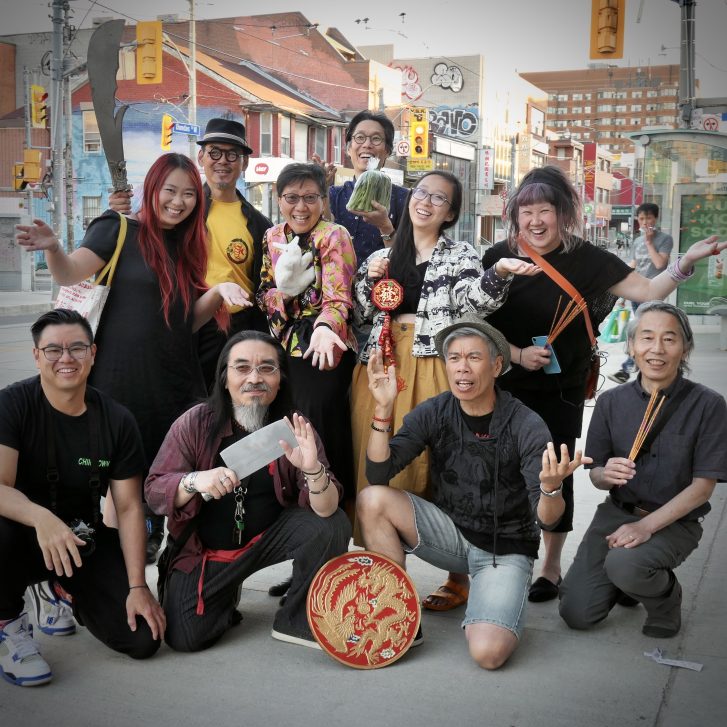 After multiple lockdowns and losses due to the Covid 19 pandemic, "Long Time No See – Moh Gihn Ho Noi" seems like a poignant moment of encounter. It can refer to recognizing one another's faces after being masked for so long or recognizing the face of Chinatown, an old friend we may not have truly seen or looked at for awhile. This project is just a beginning, a beginning to build relations among people who care about Chinatown. We hope it can lead to learning more about each other, honouring story and memory, and to building a more equitable community with shared responsibilities to this land and the Indigenous peoples of this land.
My mother spent her early years in our ancestral village, then, orphaned with her sisters, on the run for thirteen war torn years before she could return to her country of birth, Canada. Later, our family moved to a WASPy suburb, where there was little to reflect my mother's life or her humanity.
My mother took the bus, subway and streetcar, to get to Chinatown. I recall my mother bumping into old friends and saying, "Moh Gihn Ho Noi" and as they chatted mom would express what it meant to her to "gihn mehn," (see her friend's face). There was such a depth of feeling that, today when I think of it, there was a sense of "I am so glad that you are alive and I am alive and we are here standing face to face".
Brenda Joy Lem – Artist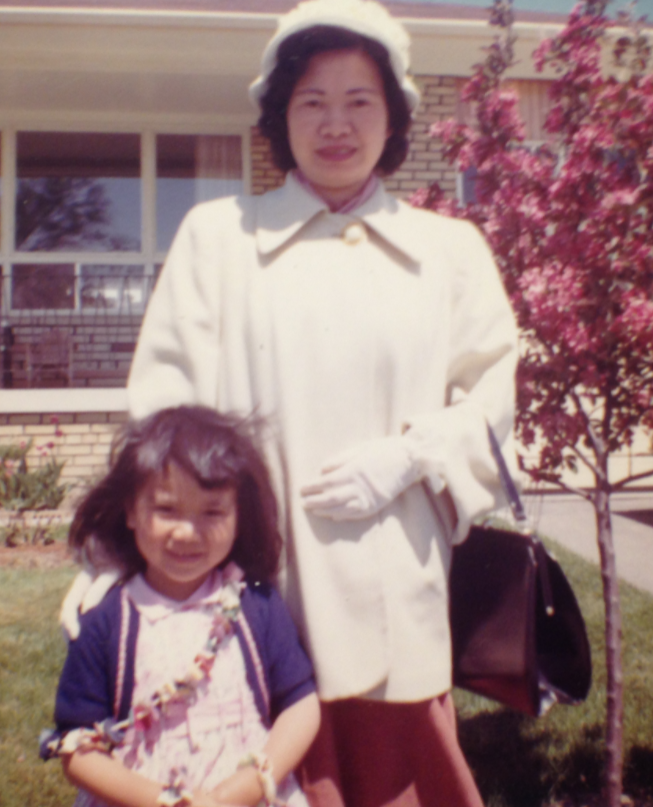 Submit A Story here

中英文均可.
About Us:
Land Acknowledgement:
‍
We have been meeting virtually for many months to organize this project. To take this photo, for some, it was the first time to "gihn mehn," to meet face-to-face.
‍
Long Time No See acknowledges the original caretakers of the land where Chinatown is today. We are on the ancestral and traditional territories of the Mississaugas of the Credit, the Anishinaabe, the Haudenosaunee, and the Huron-Wendat.
‍
This work brings together different generations and backgrounds of Chinese Canadian artists and educators. We honour our ancestors by sharing and teaching the stories of how Chinatown came to be, the histories that have been erased, and, our responsibilities to act in solidarity with Indigenous peoples. Walking along Spadina Avenue today, we are grateful to the Indigenous nations who, for thousands of years, have come to "gihn mehn," exchange stories, goods and knowledge.
LONG TIME NO SEE is produced by a non-profit ad hoc group of friends, who are artists and educators comprising of:

Emily Chan (not shown) is a mother and educator with many happy childhood memories of Tkaronto/Toronto's Chinatown

Richard Fung is a Trinidad-born artist, writer and Professor Emeritus at OCAD University

Kwoi Gin is a Hoisandoy hoo became Jean Lumb's Dimsum Buoy after landin in Ctwn'66 n rest is history 💓

Brenda Joy Lem gardens, cooks, reads a lot of books, caregives + makes music and art.

Keith Lock is the first Chinese Canadian Filmmaker and is a descendent of one of the original 13 Chinese Families in Toronto

Morris Lum is an artist, photographer, educator living in Tkaronto/Toronto.

Maylynn Quan is a Tkaronto/Toronto based photographer from Trinidad & Tobago and the director of Kids Canada.

Amy Shuang Wang is a first generation Chinese immigrant who lives, works and studies Kung Fu in Spadina Chinatown.

Rick Wong is a retired architect, now a cycling and Kung Fu instructor

Sandy Yep is a 4gen Mtl resto-boy from SunWei. Educator, trail runner & social justice advocate – he loves Tkaronto.

Shellie Zhang is an artist living in Tkaronto/Toronto
Article From: Long Time No See Chinatown