This post is also available in: 简体中文 繁體中文
Project PROTECH's last Community Partners' Showcase series will be released on our YouTube channel on Tuesday, December 29th, at 6 pm EST.
Butterfly, the Asian and Migrant Sex Workers Support, was formed in 2014 as a support network for Asian and migrant sex workers to address the unique challenges they face working in Canada – particularly within the context of new anti-sex work legislation that criminalizes the purchase of sex, advertising sexual services, and communicating in public. Asian and migrant sex workers are especially vulnerable, says Butterfly on their website, "their human rights are denied because of their race, language, social, immigration and legal status. Stigma and marginalization increase their exposure to violence and exploitation and hinder their access to basic healthcare, services, protection and justice."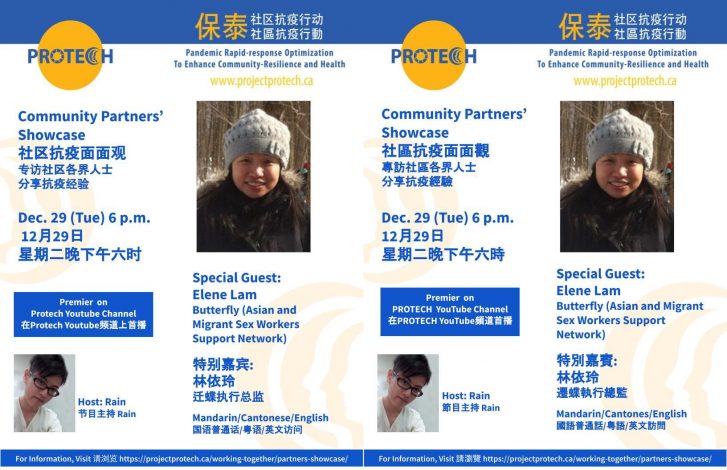 Founder Elene Lam has been involved in the sex workers' movement for more than 15 years and she co-founded the organisation after moving to Canada from Hong Kong. Elene Lam has been speaking out against deportation orders issued against migrant sex workers ever since.
After moving to Canada, Elene saw a need for activism around the specific needs and concerns of migrant sex workers. She felt the voices of migrant sex workers were missing from the sex workers' rights movement. Furthermore, migrant sex workers are often treated as victims by the abolitionist movement.
The work involved at Butterfly includes:
To promote and advocate human rights of Asian and Migrant sex workers.
To improve the working conditions and social needs of Asian and Migrant sex workers.
To develop supports and services for Asian and Migrant sex workers as well as their families.
To eliminate the stigma and discrimination against Asian and Migrant sex workers.
About the speaker:
Elene Lam,
Elene Lam (LLM, LLB, MSW, BSW) has advocated for the sex workers, migrant, labour and gender justice for more than 15 years. She is the founder and Executive Director of Butterfly (Asian and Migrant sex workers support network) and Co-director of Migrant Sex Workers Project. She has conducted training and presentations to community members, services providers and policy markers on sex work, migration, anti-oppressive practice and human rights in more than 20 countries, including the United States, Australia, Japan, Hong Kong and Switzerland. She also submitted and presented a brief to the Standing Committee on Justice and Human Rights in Canada and the Committee on the Elimination of Discrimination Against Women of the United Nations in Geneva to advocate for the rights and safety of migrant sex workers. Elene holds a Master of Law, a Bachelor of Law and a Bachelor of Social Work. She is currently doing her PhD in the School of Social Work at McMaster University.
Please subscribe to our YouTube channel to check out more videos coming up!