This post is also available in: 简体中文 繁體中文
Project Protech's 20th Community Partner's Showcase series will be released Tuesday, April 6th at 6 pm EST on our YouTube channel. We have Linda Zhang, Assistant Professor, Ryerson School of Interior Design for this episode.
In this episode, Linda Zhang will share with PROTECH on her works, including "Imaging Chinatown in 2050" and how the COVID19 pandemic radically reshape our world.

About the speakers:
Linda Zhang, Assistant Professor, Ryerson School of Interior Design
Linda Zhang is a registered architect, licensed advanced drone pilot, and artist. She is a principal and co-founder at Studio Pararaum and assistant professor at Ryerson SID. Her design-research explores memory, cultural heritage, and identity as they are indexically embodied through emergent technologies, matter, and material processes.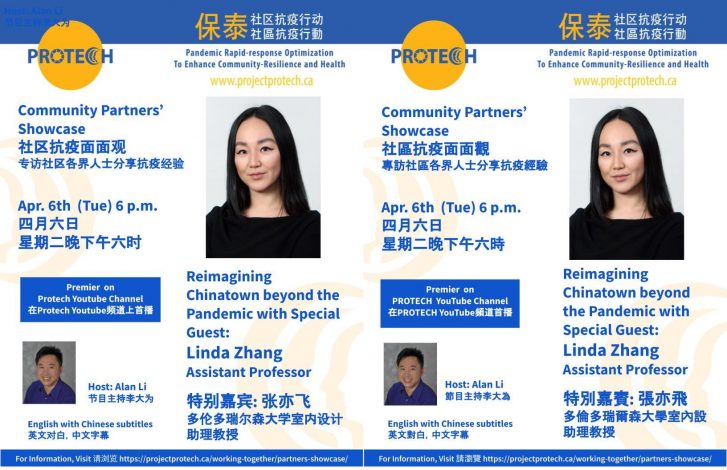 Her work has been exhibited internationally in Canada, Germany, Italy, Japan, Spain, the United Kingdom and the United States, including London Festival of Architecture, Milan Architecture Design Expo, Griffin Art Projects, Erie Canal Museum, Toronto Offsite Design Festival, and Tokyo Gallery A4. She is the recipient of the 2022 Artist-in-Residence at the EKWC, the 2020 Toronto Excellence Award, the 2019 Multicultural Fellow at NCECA (National Council on Education for Ceramic Arts), the 2017-2018 Boghosian Fellow at Syracuse University School of Architecture as well as a 2017 Fellow at the Berlin Center for Art and Urbanistics.
Linda was a Dean's Merit Scholar at Harvard University's Graduate School of Design where she received a M.Arch I AP with distinction, the AIA Henry Adams Certificate and the James Templeton Kelley Thesis Prize. She received a B.Sc.Arch with First-Class Honours from McGill University School of Architecture where she was the recipient of McGill Alumnae 75th Anniversary Scholarship, the Faculty of Engineering Scholarship, the Philip J Turner Prize, and the Steel Structure Education Foundation Scholarship.
Here is the link directly to the Reimagining Chinatown website: http://www.myseumoftoronto.com/programming/imagining-chinatown-2050/
Please subscribe to our YouTube channel to check out more showcase series coming up!