This post is also available in: 简体中文 繁體中文
Project PROTECH's second Community Partners' Showcase series will be released on our YouTube channel on November 17th, 2020 (Tuesday) at 6 p.m. EST.
For our next Partners' Showcase, we invited Tam Goossen, Co-chair of Good Jobs for All Coalition, to speak about their experiences working for the community during this pandemic.
Please review the full English version here:
The Good Jobs for All Coalition co-chair Tam Goossen has won a City of Toronto Human Rights award for her dedication and commitment to creating an inclusive and fair Toronto. The Good Jobs for All Coalition is an alliance of community, labour, social justice, youth and environmental organizations in the Toronto region. The Coalition's goal is to develop strategies that affirm the values of a truly just society – healthy communities, a sustainable economy, strong public services, equity, and decent work for all.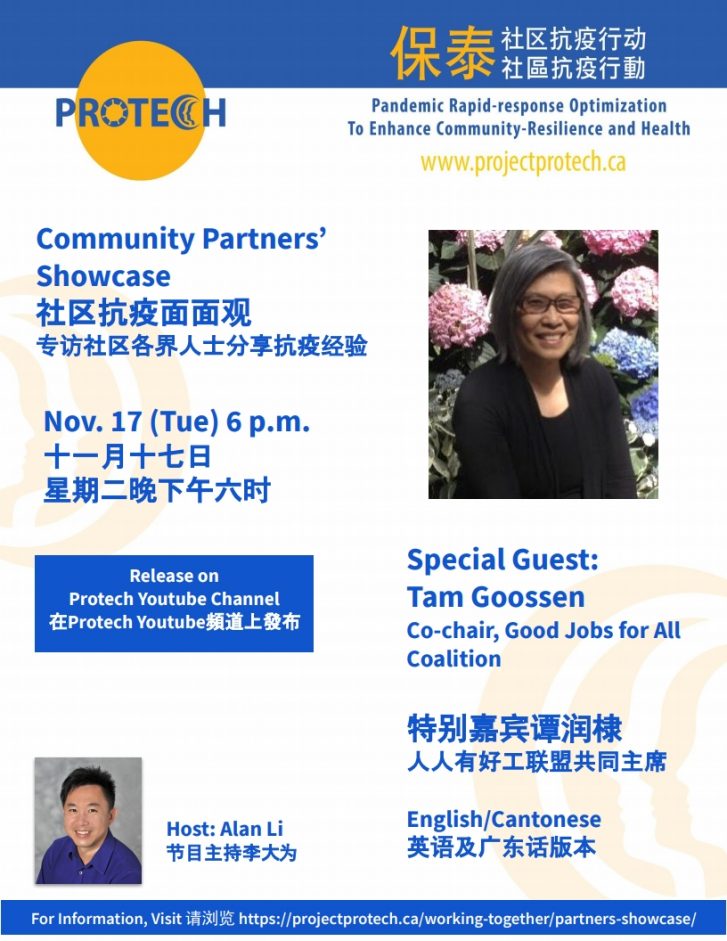 About Tam
Tam Goossen, co-chair of the Good Jobs Coalition, was elected public school trustee from 1988 to 1997. Over the years, Tam has volunteered with many organizations including the Chinese Canadian National Council, Social Planning Toronto, Ontario Press Council and Toronto Community Benefits Network. Tam believes in building coalitions to fight racism and was a board director of the Urban Alliance on Race Relations from 1995 to 2018, serving as President from 2000 to 2002. Tam has a master's degree in Japanese and Chinese studies from the University of Toronto and was research associate at the Asian Institute.
In addition to having worked as a teacher, researcher and community organizer, Tam's published writings include: "SARS, Head Tax and Too Asian?" (Emerald), "Political and Community Activism in Toronto: 1970-2000" (Polyphony, Chinese in Ontario), "Renewing Toronto's ESL Program" (Social Planning Toronto) and "Rationalism vs Nationalism: Tsuda Sokichi" U of Toronto/York U Joint Centre)
Tam Goossen has been dedicated towards creating an inclusive society. Since immigrating to Canada from Hong Kong forty years ago, she has worked hard to improve the lives of immigrant women and their families in Toronto. As a mother, community activist, media commentator and mentor, she continues to touch the lives of many women of diverse backgrounds.
Tam is past President and current Vice-president of the Urban Alliance on Race Relations, as well as a public member of the Ontario Press Council. She has worked with many community organizations including the Chinese Canadian National Council, the Metro Toronto Chinese South East Asian Legal Clinic and St. Stephen's Community House.
Subscribe to our YouTube channel now and stay tuned for more pandemic resiliency videos!