This post is also available in: 简体中文 繁體中文
Project PROTECH's 12th Community Partners' Showcase series will be with the Hassle Free Clinic, to be released on our YouTube channel next Tuesday,Feb 2nd at 6 pm EST.
The Hassle Free Clinic provides free medical and counselling services in many areas of sexual health. It is a community-based clinic providing medical and counselling services in all areas of sexual health. Hassle Free is also the largest anonymous HIV test site in Canada and is one of the country's busiest sexually transmitted infection (STI) clinics. The clinic strives to maintain an informal atmosphere, delivering services in a timely, non-bureaucratic manner. A fundamental principle of service delivery is a non-judgmental, supportive attitude to the treatment of sexual health concerns.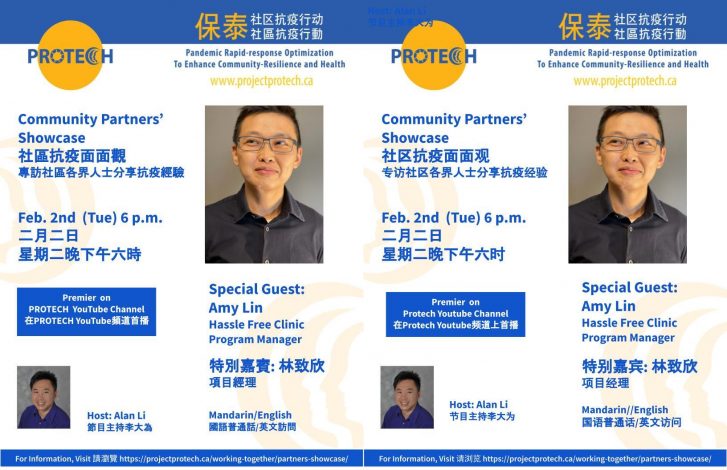 About the speakers:
Amy Lin (Program Manager)
Born and raised in Taiwan, Amy Lin came to Canada as an international student in 1989. Amy has been working in the sexual health field for the past 25 years. Amy is a therapist/counselor and currently the program manager of the Making The Links program at Hassle Free Clinic where she supports clients with linkage to needed treatment, care and support.
Please subscribe to our YouTube channel to check out more showcase series coming up!