What will become of Toronto's Chinatown(s)? Reimagining ChinaTOwn is a collection of eleven speculative fiction stories set in 2050 that boldly reimagines the future of Chinatown as a shared and collective vision.
June 19, 3pm-5pm EDT | ChinaTOwn 2050 Virtual Book Launch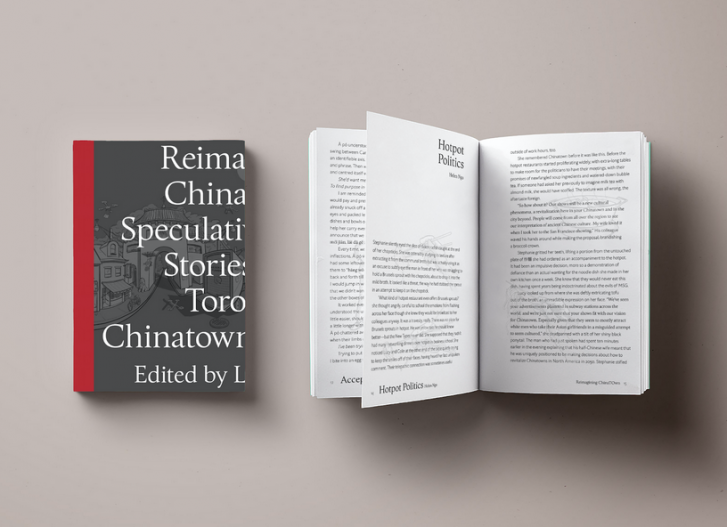 Join us for the virtual book launch (June 19) of Reimagining ChinaTOwn: Speculative Fiction Stories from Toronto's Chinatown(s) in 2050. Based on a workshop during Myseum Intersections 2020 and written during the early months of the COVID-19 pandemic, each story explores a personal relationship to Chinatown in the context of the rising anti-Asian sentiment and growing uncertainty for Chinatown's future.  The event is free but registration is required. 
As the community authors speculate on the future in 2050, their stories offer a visionary act of resistance by uncovering new possible futures and bringing to light untold pasts. Chinatown itself is an illumination of the histories of diasporas for those who know how to see. It is both a place and a condition; between generations, between patterns of immigration, between identities, between others, between countries. By envisioning Chinatown anew, the stories create a radically more generous and expansive present moment by building a collective and shared vision for the future of Toronto's Chinatowns.
Audience members will have a chance to hear excerpt book readings from each of the authors followed by a round table discussion about their writing, Chinatown, covid-19 impacts, envisioning speculative futures, virtual reality, and more! We'll also be having an after-party on Wonder-Me where audience members will also have a chance to meet the authors and chat one-one with folks.
With contributions by authors Eva Chu, Helen Ngo, Amelia Gan, Emperatriz Ung, Michael Chong, Georgia Barrington, Tiffany Lam, Razan Samara, Amy Yan, Eveline Lam, and Robert Tin as well as contributors Jeremy Jih and James Leng. Each short story is illustrated and accompanied by a virtual reality (VR) companion.
>> Register for the Event Here
>> Order the Book Here (Toronto)
>> Order the Book Here (Vancouver)
UPCOMING EVENTS:
2021 | Myseum Intersections: ChinaTOwn Exhibition
Each story is accompanied by a virtual reality companion, some of which are also featured as a part of a current exhibition presented in partnership with Myseum of Toronto.
>> More Information Here