Jade Dynasty has been a fixture in Vancouver's historic Chinatown since 2005. The family-owned restaurant serves simple Cantonese cuisine and North American Chinese classics such as ginger beef and General Tso chicken.
Like many traditional Chinese restaurants, Jade Dynasty does not sell wine. And even if it did, most discerning oenophiles probably wouldn't want to drink it.
But next weekend, when the restaurant teams up with Gastown's cutting-edge Juice Bar for an exciting collaboration during the inaugural Light Up Chinatown! festival, diners will be able to pair wok-fried prawns and barbecue duck with macerated sauvignon blanc, botrytis-affected pinot noir and other natural wines.
Jade Dynasty X Juice Bar, which sold out in 24 hours, is just one of many events lined up for the weekend celebration that will include two days of mainstage performances, self-guided food tours from the Chinese Restaurant Awards and a glittering display of lanterns. (For the full lineup, see lightupchinatown.com.)
But this particular crossover dinner and a few others on the slate are notable and interesting because they won't just jazz up the streets for a community that is in dire need of revival and lean on tired, old heritage tropes.
They will forge connections that would otherwise be difficult if not impossible, bridge cultures and introduce older businesses to entirely new, younger audiences.
I mean, when was the last time you were offered pét-nat with sweet and sour pork? It might happen in a trendy Asian restaurant, but not at an old-school Chinatown stalwart. These are two different worlds that are now coming together rather than colliding.
"Wine culture is so westernized. This is an opportunity to expand that conversation and make traditional Chinese food accessible to an audience that might find it intimidating," says Ken Tsui of Here There creative studio, which is organizing several of the novel culinary collaborations.
The events include late-night dim sum and cocktails at Keefer Yard, with dumplings from an old-school wholesaler, Kam Wai Dim Sum, and brunch at Chinatown BBQ with nouvelle duck croissants from Beaucoup Bakery and Café.
"But there is no chance I could have just gone directly to Connie [Deng, owner of Jade Dynasty] and made it work. This has a lot to do with Carol and the trust she has built."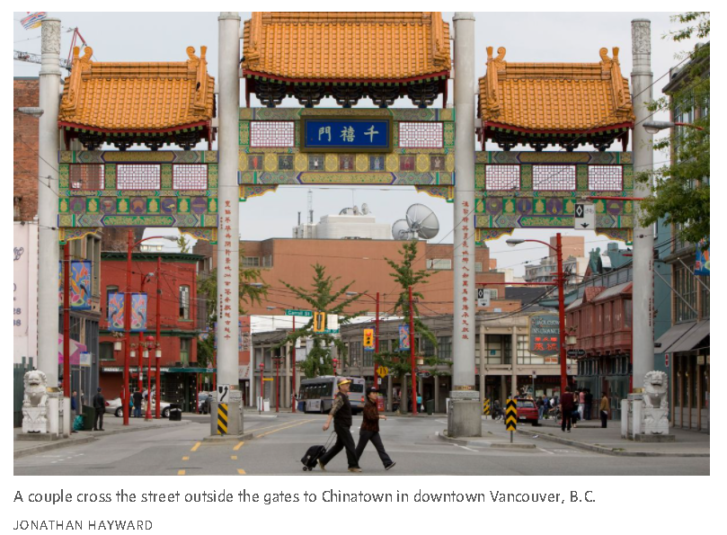 Mr. Tsui is referring to philanthropist Carol Lee, chair of the Vancouver Chinatown Foundation, which is presenting the two-day festival with the Vancouver Chinatown Business Improvement Area Society with a bevy of high-level sponsorship that her long-time dedication to the community has engendered.
In many ways, this festival is a culmination of her dreams – although she wouldn't mind receiving city approval for stringing lanterns across West Pender Street next year (instead of just perpendicularly) or better yet permanently.
The first time I met Ms. Lee, in 2013, when she was busy buying up empty restaurant spaces to save them from encroaching gentrification, she told me about her vision for Vancouver's Chinatown, which was already struggling.
"In my mind, we would have lanterns strung across the streets and lit up at night," she said. "It would be filled with tourists, local and foreign. We could have a museum. Chinese seniors would be coming back to live here. I see Chinese schools, maybe a Buddhist library. It would be a very lively, inviting, family-oriented vibe."
She has already fulfilled many of those dreams with the May Wah Hotel, the integrated health centre at 58 West Hastings and the Chinatown Storytelling Centre.
But there aren't many tourists in Chinatown these days. The sidewalks are empty. The storefronts are boarded up and strewn in graffiti. And according to a commercial retail study by the City of Vancouver, the neighbourhood was harder hit by the COVID-19 pandemic than most communities, resulting in a 17-per-cent vacancy rate compared to the city-wide average of 10 per cent.
"The lanterns are a lovely metaphor. It's about awakening people again to what a beautiful and important neighbourhood this is. But change is a given," Ms. Lee said.
"We want to try to have change that is consistent with the spirit of Chinatown. What's different about this is that Juice Bar wants to come in and collaborate with a very traditional restaurant. These are all tests, but if we can use these younger businesses to help the older businesses gain a new audience, I think it's very exciting."
Plan your weekend with our Good Taste newsletter, offering wine advice and reviews, recipes, restaurant news and more. Sign up today.
Article From: Globe and Mail
Author: ALEXANDRA GILL