This post is also available in: 简体中文 繁體中文
Today the Government of Ontario announced The Regional Municipality of York will move to the GREY-Lockdown Zone of the Keeping Ontario Safe and Open Framework effective 12:01 a.m. on Monday, December 14, 2020.
These restrictions include the closure of indoor and outdoor dining and drinking in bars and restaurants, the closure of sports, recreational facilities, community centres, meeting and event spaces, the prohibition of indoor shopping in non-essential retail stores and malls and the closure of personal care services, cinemas, performing art and gaming venues for a minimum 28 days.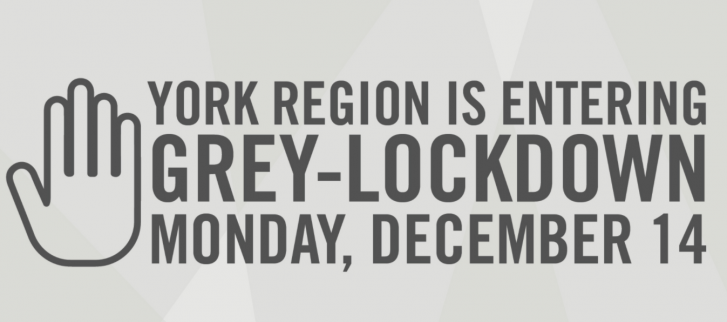 Indoor organized public events and social gatherings must be limited to members of the same household and outdoor public events and gatherings are limited to 10 people if physical distancing can be maintained.
There continues to be a high incidence of COVID-19 in our communities, and the opportunity for residents to come into close contact with someone who has the virus remains high.
Throughout this pandemic, York Region has aligned itself with provincial decision-making. Taking data and other concerns into account, we respect the direction of the Ontario government in moving our region into the GREY-Lockdown Zone.
We recognize further restrictions are difficult on individuals, families and businesses. We are grateful for all who chose to live, work and conduct business within our communities.
With the holiday season upon us, we urge all residents to abide by the new restrictions so collectively, we bring our case numbers down. We all look forward to a better 2021.
Now, more than ever, it is important for residents to follow public health measures, including staying home as much as possible, maintaining physical distancing, washing your hands frequently with soap and water, limiting gatherings to those in your immediate household and wearing a face mask or covering when physical distancing is not possible.
This past spring we came together to fight this virus by staying home and only going out for essential reasons. Together, we will do this again.
128_OrderSection22-StoresMalls-Dec13

Source: York Region Government Website