PROTECH team would like to begin highlighting the outstanding contributions of our diverse group of volunteers. Without them, we would not be able to implement our project with success. This month, we would like to recognize Patricia Quan, a livechat volunteer who has also participated in webinars, community events, and helped with graphic designs.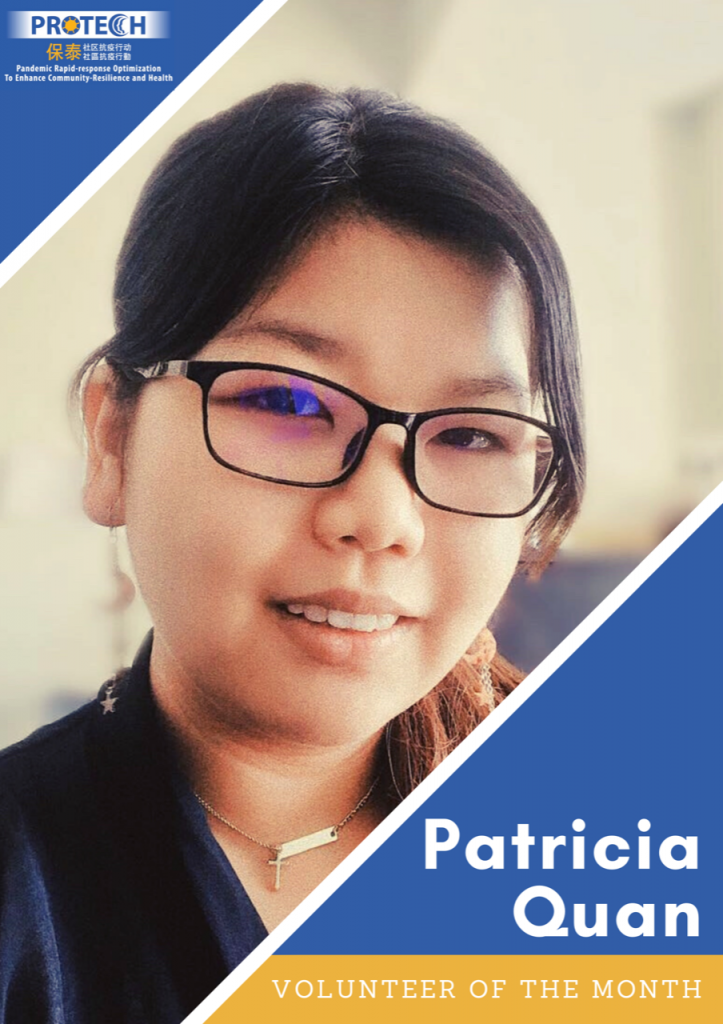 Why I joined PROTECH:
I was running student clubs and peer support service at UWaterloo and noticed that many students (especially international students) were very anxious and stressed out about the pandemic, so I joined PROTECH to (1) learn more information about community support so that I can share with my peers and (2) help others in the community who are in need.
The part I love the most about PROTECH:
I love the sense of community in PROTECH. It's really easy to connect with others during shifts, webinars, and our WeChat group. Our volunteers are all very warm and fuzzy, and thanks to PROTECH I got to connect with many others who are passionate about similar things as me.
Fun fact about myself:
I'm actually a blogger on 微信公众号 (wechat official account) and a UP主 (similar to YouTuber in Chinese context) on bilibili, I upload stuff about International student experience, psychology and sociology and personal development, you can find me on WeChat official account "帕帕是条坚强的咸鱼", and on bilibili "Patricia_帕特里夏框".
As PROTECH begins to implement new programming, we are seeking to engage those who are interested, passionate, or experienced in social media (content creation/editing/management). If you'd like to lend your talents to our social media management, please contact content@projectprotech.ca.