Tuesday, 15 June 2021 | 11:30 to 12:45 EDT with Henry Yu, Department of History and Principal, St. John's College, University of British Columbia. Moderator: Xiao Alvin Yang, Universität Kassel / York University.
What are the past and present of anti-Asian Racism in Canada? What are the forces that are driving anti-Asian racism? What are the fundamental issues at stake? In his keynote lecture, Professor Henry Yu will use the country's history to reveal the "elephant in the room" that is at the core of anti-Asian racism in Canada.
Register in advance at:
https://yorku.zoom.us/webinar/register/WN_8opHZdfLTC-_1ksUrt1Qlg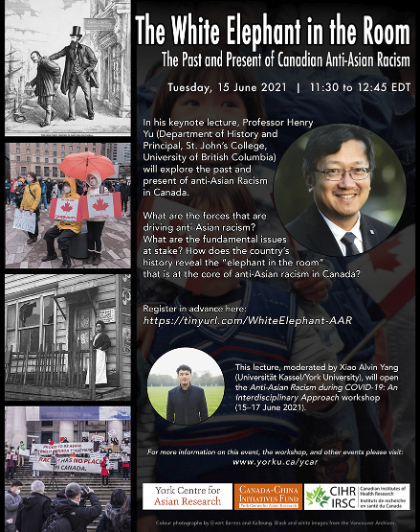 As a history professor, Dr. Yu's research and teaching has been built around collaborations with local community organizations, civic institutions such as museums and multiple levels of government. He is passionate about helping Canadians unlearn the cultural and historical legacies of colonialism and to be inspired by the often hidden and untold stories of those who struggled against racism and made Canadian society more inclusive and just. Between 2009–2012, he was the Co-Chair of the City of Vancouver's project Dialogues between First Nations, Urban Aboriginal, and Immigrant Communities
In 2015, Dr. Yu was appointed as the Co-Chair for the Province of British Columbia's Legacy Initiatives Advisory Council implementing legacy projects following the province's apology in May 2014 for BC's historic anti-Chinese legislation. He served on the Advisory Group for the City of Vancouver's apology consultation process for Historical Discrimination Against People of Chinese Descent (HDC) from 2016–17 that resulted in the City of Vancouver's formal apology for its historical discrimination against its Chinese Canadian residents on April 22, 2018.
Professor Yu received his BA in Honours History from UBC and an MA and Ph.D. in History from Princeton University. He was awarded the Queen Elizabeth II Diamond Jubilee Medal in 2012 and the Province of BC's Multicultural Award in 2015 in recognition of his research and community leadership. Professor Yu's keynote lecture will open the Anti-Asian Racism during COVID-19: An Interdisciplinary Approach workshop (15–17 June 2021). This event is presented with the support of the Canada-China Initiatives Fund at York University and the Canadian Institutes for Health Research.