This post is also available in: 简体中文 繁體中文
Two projects led by Ryerson University researchers have been awarded a combined $2.7 million in Project Grants from the Canadian Institutes of Health Research (CIHR), supporting research that seeks to evaluate and implement programs that will enhance well-being.
Professors Josephine Wong and Mandana Vahabi of the Daphne Cockwell School of Nursing and a team of researchers from Ontario and Alberta will study an intervention model that aims to help reduce HIV-related stigma in racialized and other marginalized communities and compare the effectiveness of in-person and online training.
Professor Alexandra Fiocco of the Department of Psychology and team will research the effectiveness of mindfulness on the well-being of family caregivers who look after family members with dementia. The number of such family caregivers is increasing across the country, and those individuals may be at an increased risk of developing stress-related disorders such as depression.
"Congratulations to professors Wong, Vahabi and Fiocco and their teams. The projects enabled by these two grants will seek to promote resilience, reduce stigma and assess the effectiveness of interventions and training," said Steven N. Liss, Ryerson's vice-president, research and innovation. "They further demonstrate Ryerson University's distinct approach to SRC activities in the health and well-being field, including deep collaboration with community members."
The two projects were among 336 grants funded during this round of CIHR Project Grants, along with nine bridge grants, for a total of $253 million in investment.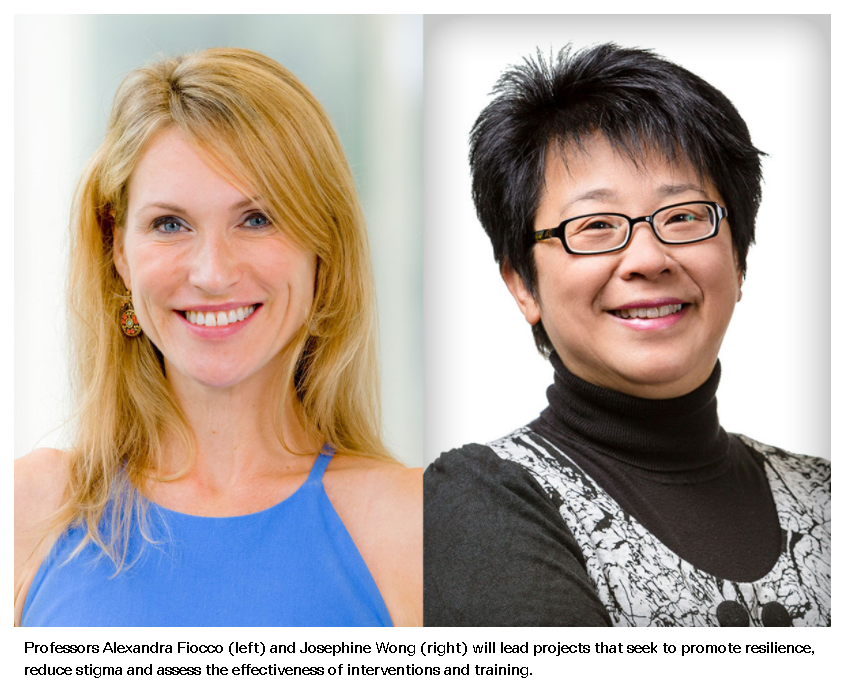 Reducing HIV-related stigmas in marginalized communities
Professors Wong, Vahabi and a team from across Ontario and Alberta will study the effectiveness of an intervention that integrates Acceptance and Commitment Therapy (ACT) and collective empowerment strategies to reduce HIV-and-related stigmas and build community resilience delivered online. Stigma impedes HIV prevention and access to care, producing health disparities among marginalized groups. Minority groups in Canada bear a disproportionate burden of HIV. The study, taking place in communities in Alberta and Ontario, will build on nearly a decade's worth of research into reducing HIV stigma faced by racialized and other marginalized communities. The team will adapt their evidence-informed, in-person intervention model addressing HIV-and-related stigmas, based on homophobia, transphobia, racism and ableism, into an online version and evaluate its effectiveness.
"We began developing online interventions a year ago to enhance access of participation by people working long hours," said professor Wong. "The pandemic has expanded the need and urgency to convert evidence-based interventions to online."
Mindfulness training for family caregivers
Professor Fiocco, along with co-investigators nursing professor Kristine Newman from Ryerson and professor Diana Koszycki from the University of Ottawa, will focus their project on family caregivers of persons with dementia. Their research will examine the benefits of daily mindfulness practice for the caregivers, including measuring psychological health, cognitive performance and biological markers of stress before and after completion of the program. The project will build on professor Fiocco's previous research into mindfulness training for older adults, where she first developed the idea that a mindfulness program tailored specifically for family caregivers could be beneficial.
"I am very excited to finally have a chance to examine how mindfulness training may modify biological markers of stress among older family caregivers, a segment of our population who have been referred to as the 'hidden patient population,'" said professor Fiocco. She adds that developing an evidence-based standardized program is important, providing facilitators a framework with which to approach training.  
Article Source: Ryerson Website