As we embark on the recovery phase of the pandemic, PROTECH hosted a community recovery action planning forum on June 23rd to learn from our community's experiences and explore strategies moving forward. Thanks to the amazing support and active contributions from more than 50 community leaders and key informants from diverse sectors who participated in our half-day forum, we were able to engage in dynamic dialogues to share our wise practices, identify emerging needs and develop recommendations to support our community's recovery from the pandemic.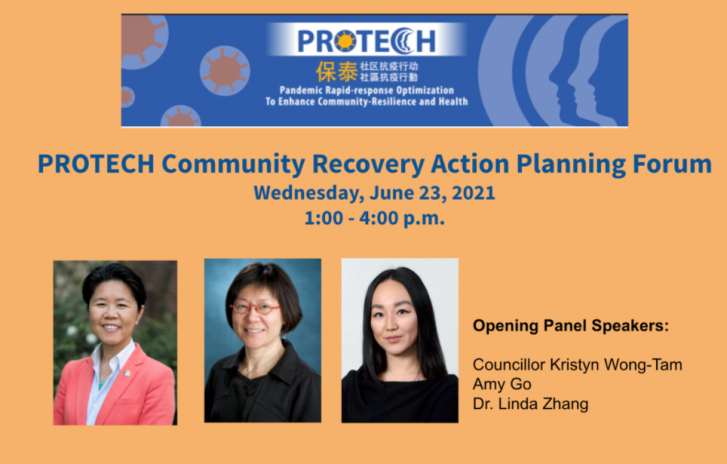 The forum started with our three dynamic panelists. Toronto City Councillor Kristyn Wong-Tam addressed how the pandemic impacted our city and the importance of coordinated systemic and community responses. Amy Go, President of Chinese Canadian National Council for Social Justice (CCNCSJ), highlighted different forms of community resilience in response to anti-Asian Racism. Dr. Linda Zhang, professor from Ryerson University, inspired us with lessons learned from her Reimagining Chinatown project to stimulate our discussion on how our communities may thrive beyond the pandemic.
The opening panel was followed by dynamic discussions in breakout rooms. The four streams of discussion included: Employment and Economic Recovery; Anti-Racism and Social Justice; Mental Health and Wellness; and Access to Healthcare and Support Services. Participants engaged in dynamic dialogues about wise practices and innovative strategies that their organization or sectors have used to address the pandemic challenges; the most critical needs faced by our communities as we enter the recovery phase; and what public policies and resources are needed for inclusive and equitable recovery. Inspiring ideas and important recommendations from the small group dialogues were presented to the large group to facilitate further exchange of ideas and discussion.
The forum closed with the sharing and encouraging remarks from Toronto City Councillor Cynthia Lai. We truly appreciate the time, energy, commitment and contributions of our invited speakers, discussion facilitators, participants, and team members. Together, you have all made this a meaningful, informative and successful forum.
We are in the process of synthesizing the discussion notes from the forum and will organize further channels to share these important ideas and recommendations with forum participants and the broader communities in the near future.
In the mean time, please visit our Youtube channel to re-visit the presentation of our Opening Panel Speakers below.