This post is also available in: 简体中文 繁體中文
The Ontario-wide lockdown will start on Boxing Day, Premier Doug Ford has announced.
The move will restrict non-essential retail and prohibit indoor dining right across the province starting at 12:01 a.m. the day after Christmas. The province-wide lockdown will last until January 9, 2021. After that date, restrictions will remain in effect until Jan. 23 for all public health unit regions in Southern Ontario.
Ford said the virus is spreading rapidly from areas with a high number of cases to those with fewer cases, and the province needs to preserve capacity in its health-care system.
"This difficult action is without a doubt necessary to save lives and prevent our hospitals from being overwhelmed in the coming weeks," he said. "Make no mistake, thousands of lives are at stake right now."
The decision comes as the province records its seventh straight day of over 2,000 new COVID-19 cases. Toronto and Peel Region continue to have the largest number of cases.
The lockdown means no indoor organized public events or social gatherings, except with members of the same household. Weddings, funerals and other religious services can only have 10 people regardless if they are indoor or outdoor.
Essential businesses that remain open will have strict capacity limits. Indoor sports facilities, personal care services, including salons and casinos are all shut.
The province also announced it will offer a grant to some small businesses with a minimum of $10,000 to help offset losses.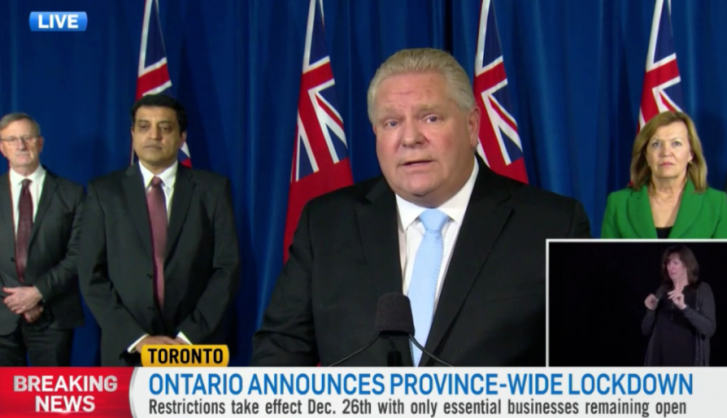 Hours earlier, the province's health advisers said the sooner a "hard lockdown" were implemented, the more new cases could be prevented.
"If we started on Dec. 21, instead of Dec. 28, it plays out significant reductions in cases under almost any scenario," said Dr. Adalsteinn Brown, co-chair of the province's COVID-19 science advisory table.
Brown added that anything less than a four-week lockdown will not work, based on the experience of other jurisdictions.
When asked why the date had been pushed back two days from the original plan that saw the lockdown go into effect on Christmas Eve, Ford said they needed to give businesses that have not experienced a lockdown before time to prepare.
"[We need to] give them the opportunity to get ready to hunker down. We can't do it overnight and leave these people with inventory, especially restaurants with food inventory."
As for education across the province, both publicly-funded and private schools will move to remote learning heading into the new year.
Here in the GTA, elementary school students will take part in remote learning from January 4 to 8 and return to in-person learning on January 11. Secondary students will continue to learn remotely until January 24 and return to the classroom the next day.
The government says child care will remain open for the duration of the province-wide shutdown. But, during the time when elementary schools are operating virtually, "licensed child care centres and authorized recreation and skill-building providers will be prohibited from serving school-aged children." Before and after school programs will also be shut down during the period of Jan 4 to 8.
The Ontario Hospital Association (OHA), which had called for strict new restrictions, said it was disappointed the lockdown wouldn't take effect sooner.
"The Dec. 26 implementation date sends a confusing message about what (residents) should and shouldn't do at this crucial moment," said CEO Anthony Dale.
Over the past several weeks, various medical organizations have pressed the government for stronger action in order to alleviate the growing strain on the health care system.
An association of GTA hospitals joined the OHA and the Ontario Medical Association in calling for stronger lockdown measures, warning that a surge in cases following the holiday season is expected to make the situation even worse.
The group says frontline health care workers are stressed and their efforts to battle the pandemic are being overstretched and is reaching a level that is "simply not sustainable for much longer."
"We are seeing increasing numbers of staff becoming ill and not able to work – both with COVID-19 and other illnesses. While we are coping and planning for redeployment, we are seeing more illness and stress and hearing about the toll this is taking on people's families," the joint statement reads.
"We recognize that lockdown measures are challenging for many members of our communities, but we cannot afford to put patients and health care workers at further risk."
With files from The Canadian Press
Source: 680 news
Author: NEWS STAFF AND RICHARD SOUTHERN