The Omicron strain of COVID-19 is sweeping across the country. Hospitalizations are near a record high in Quebec, Ontario, and New Brunswick. 
But protections are lower than ever before. The newly introduced Canada Worker Lockdown Benefit is available only for those with a valid Social Insurance Number and who meet multiple requirements. Most migrants are excluded.
A recent report from Toronto's University Health Network highlights how there are two pandemics, one for those that are well-off, and the other for the rest of us.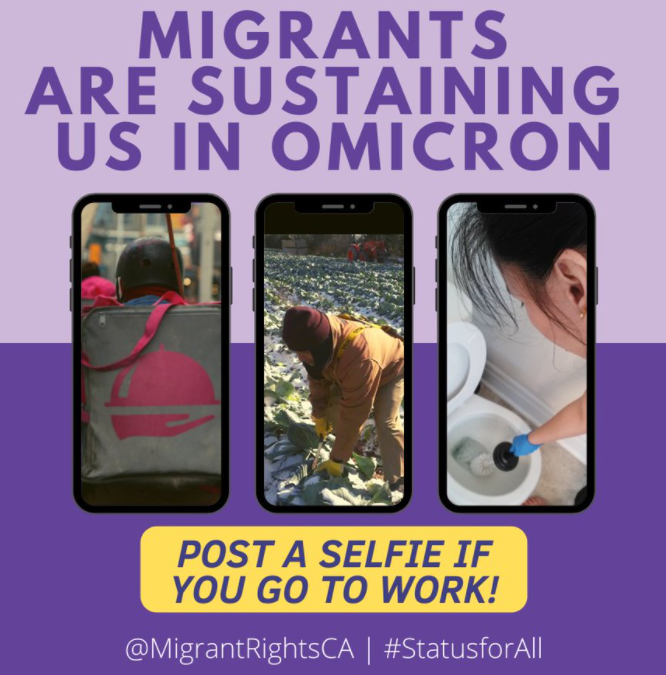 While some can work from home, are fully vaccinated, have access to appropriate masks and get paid sick days if they fall ill, most working-class racialized migrants continue to work, increasing our chances of exposure, and we can't even get a COVID-19 test or paid sick leave. 
In 2020 and 2021, migrants forced the government to make major changes to immigration policies, including making post-graduate work permits renewable, extending the time migrants had to renew their permits, and opening one-off permanent resident pathways. All these changes have since been cancelled. 
But COVID-19 is far from over. The human rights catastrophe that migrants have been facing continues.
Outbreaks in Long Term Care have caused staffing shortages, up to 30% in parts of Ontario, and it is migrants who keep going to work. The same is true in agriculture, food processing and delivery, where migrants continue to sustain us through yet another crisis.
Across the country, big business is complaining about labour shortages. Labour shortages are a crisis of bad wages, substandard working conditions and denial of rights made worse by an ongoing public health crisis. Rather than fix that problem, rich corporations want to shift the cost of it onto workers with temporary immigration status and even fewer rights. Lobbyists for multi-million dollar corporations are pressuring the government to create an Emergency Foreign Worker Program to use the crisis to expand access to more exploitable workers. 
We must all continue to insist that more temporariness and more pathways are not the solutions. What's needed is the permanent resident status for all migrants so that we have the same rights as everyone else, and better wages and protections for all workers. Take action now. 
Article From: Migrant Rights Network