As mask mandates lift Monday, students are calling for more measures to prevent the spread of COVID-19.
As masks became optional in most public settings Monday, Ontario students staged walkouts at schools across the province, calling for mandates to be extended and more health measures to be implemented.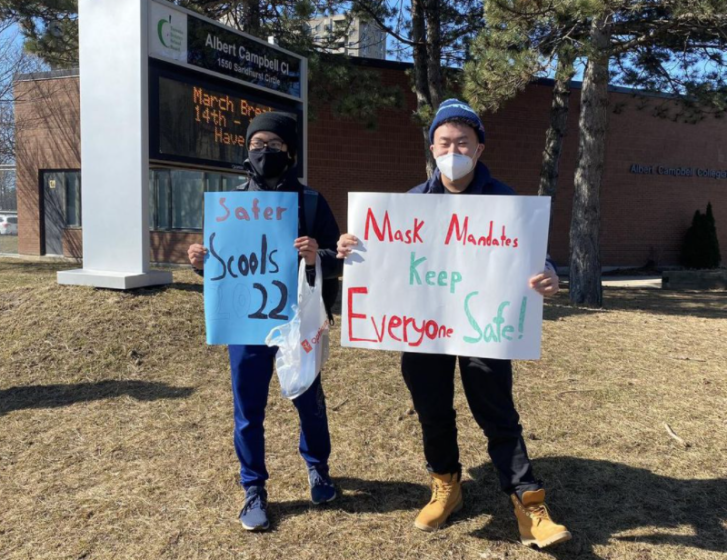 "It's a betrayal to us," Grade 11 student Derek Song said about the government's decision. "We don't really get our voices heard."
At his school, Albert Campbell Collegiate Institute in Scarborough, he and about a hundred students participated in the walkout, chanting their requests and carrying signs that read "Safer Schools 2022" and "Mask Mandates Keep Everyone Safe!"
As one of the organizers of Ontario Students For COVID Safety, Song and other students are calling for the expansion of COVID-19 PCR and rapid testing in schools, more reporting on cases, free KN95 and N95 masks, smaller class sizes and for the government to complete the improvement of ventilation in classrooms.
He worries that the mandate dropping will increase COVID transmission and force students back online, when they've already lost so much with online learning over the pandemic.
"Stuff like extracurriculars and talking to classmates — you can't do that in virtual school," he said. "It's a really different experience. You're trapped alone."
For now, masks are still required on public transit, in hospitals, long-term care homes and other select places, but are now optional in schools, gyms, movie theatres, grocery stores and more public settings.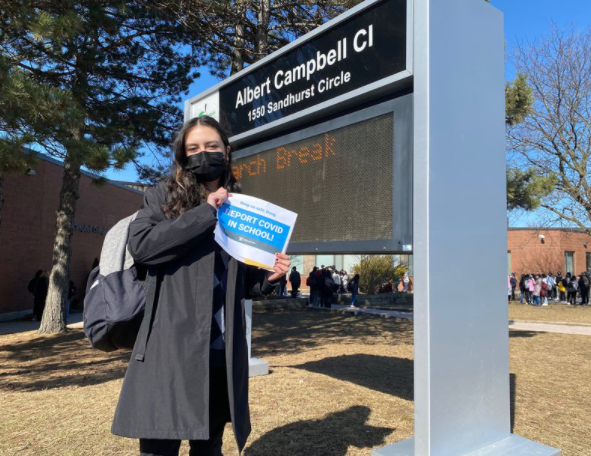 But Emma Jamed, Grade 10 student at the Scarborough high school, thinks that lifting the mask mandate at schools is a sign that the province isn't protecting students the way it should be.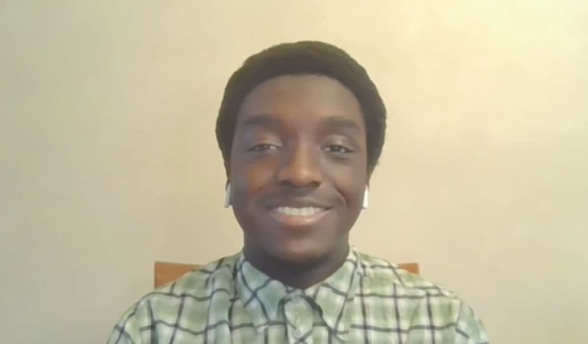 "All of us think it's way too early for the government to be doing this," she said. "Especially after March Break; we don't know where these kids have been all March Break. It's honestly not safe."
Reporting cases should be a top priority and mask mandates in schools should be in place for at least two more weeks, she added.
Not knowing how many cases there also "gives you a little bit of anxiety," Jamed said, noting that students often rely on social media to get a better understanding of how much transmission there has been.
Previously, Ontario school boards reported COVID data with dashboards that showed daily case counts in students and staff. However, since the province limited PCR test eligibility, there hasn't been a way to get reliable numbers.
Now, families are only notified when a school hits a 30 per cent overall absence rate. The absences are not limited to people out of school due to COVID.
Hayley Yap, a fellow Grade 11 student at the school stressed the need for mandates because although the virus has "calmed down," it's unknown when there will be another wave.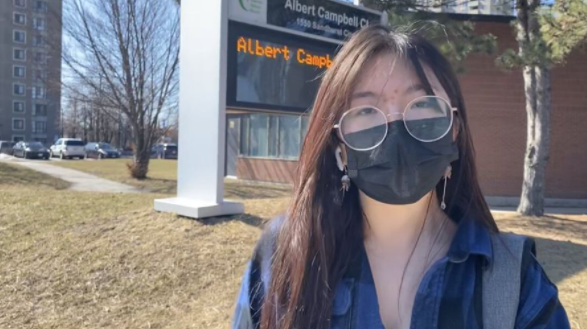 "We should feel safe in our own school. We just want PCR testing, we want to be notified about the amount of cases that are in our schools for our own safety, and for our health to above our academics," Yap concluded.
As part of the student group's efforts, Song says they have launched a petition that has almost 2,000 signatures which include students, teachers and others in protest. They have also sent a letter of requests to Ontario's Ministry of Education.
"I hope that it sends the message that (the government has) made a decision for Ontarians, for students, and for staff without really knowing what we want," Kaden Johnson, Grade 11 student at Applewood Heights Secondary School said. "We don't feel safe in our learning environment."
Continuing with virtual learning, Johnson — who also co-founded the student group — will have spent two and a half of his three years in high school, online, by the end of June.
But being in virtual school isn't a decision he takes lightly.
"Next year will be my last year," he said. "If things were getting better, then I would definitely consider heading back, especially because it's where I'd rather be."
For now, he fears the Ontario government lifting mask mandates will jeopardize his chances.
"If you want students to excel and succeed academically and socially and developmentally, it's … imperative that we have a learning environment that we all feel comfortable in," Johnson said.
Some students are also worried about high-risk family members and young siblings who are ineligible for vaccination, Johnson says.
"Because we know so many people that are less protected against COVID-19, it's important that we have as many measures in place as possible to keep everybody safe," he added.
Some school boards, including Toronto's public and Catholic boards, had asked the province ahead of the mandate lift for more time before removing COVID-19 restrictions, but Ontario's chief medical officer of health sent a letter Thursday, doubling down on the decision.
"With the peak of Omicron behind us, Ontario has been able to cautiously and gradually move through its reopening milestones," wrote Dr. Kieran Moore to the Toronto District School Board. "With high vaccination coverage and the availability of antiviral treatments, Ontario now has both the prevention and response tools necessary to manage the impact of COVID-19."
Meanwhile, some universities, such as Queen's, the University of Toronto and McMaster have decided to keep mandates in place until the end of the winter term.
In addition to calling for more public health measures in schools, the students are asking the government to suspend EQAO standard testing, which doesn't affect students' grades, and which Johnson believes is adding unnecessary stress to those who are struggling due to the pandemic.
Johnson, who co-founded student safety group with Song and Scarborough student Sophia Alexanian in January, said they first gained traction after Twitter thread of theirs went viral. The three were interviewed on CP24, which made the group even more visible, and inspired them to push forward.
Article From: The Star
Author: Manuela Vega, Alessia PassafiumeS