Award recipients continue to pursue studies and community support thanks to funding
This academic year, two Ryerson University students were awarded the Bill 7 bursary, an award established in 1987 to support 2SLGBTQIA+ students who demonstrate financial need.
Named after the 1986 Ontario legislation that extended the protection of the Human Rights Code to lesbian and gay people, the award currently extends a bursary of $4,000 to each recipient. It is a community-based award administered by the Bill 7 Trust.
In 2021, Alexander Casucci, a philosophy student, and Amélie Morrow, a TRSM student, received the award.
They each spoke with Ryerson Today about being chosen as a recipient and the work that they each do within their communities.
How did you find out about the award?
Morrow: I found out about the Bill 7 award while I was hunting for scholarships in general, applying to as many as I could. I knew I would have to go above and beyond to fund my education, so I worked two jobs last summer (part-time and full-time). But I'm taking extra classes while working toward both an economics and an entrepreneurship major, and I knew I needed a little more money to make things work.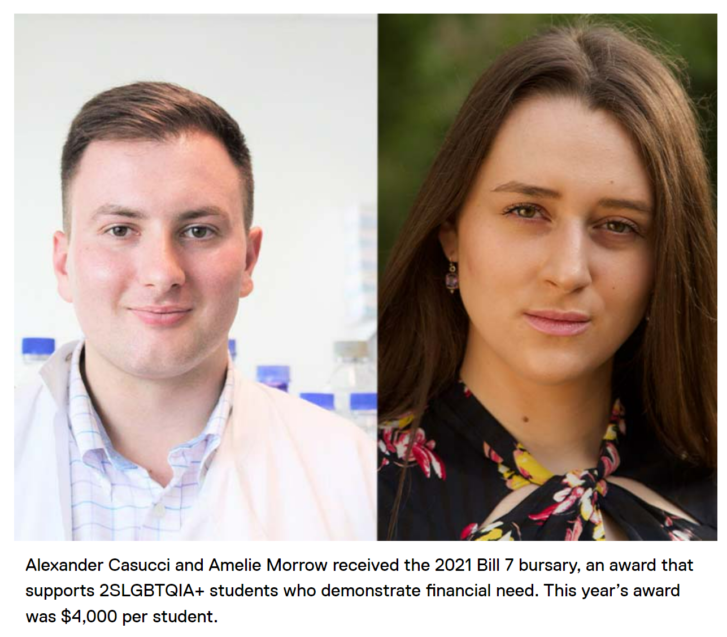 What made you apply for the award?
Casucci: This past summer, I went through one of the most volatile seasons of my life. The extreme challenges I was facing meant I might not have been able to continue my studies at the university. I didn't want to give up my schooling, though, and I knew my education was my only hope for a better future. The Bill 7 award made a financial difference and meant that I'd be able to continue with my studies the following year.
Morrow: I was really hesitant to apply, because I haven't experienced extreme hardship as a bi woman. Coming from this place of privilege, I was hesitant. But I thought about what I would do with this money and my plans for the future, and I realized that my work – to reduce the poverty and suffering brought on by the housing crisis – will have a dramatic impact on queer youth.
How has winning the award made a difference for you?
Morrow: Awards like this are important because they help queer people take control of their lives, if on a smaller scale. At the awards ceremony, I heard bright young people share their stories of struggle and sacrifice to afford basics like gender affirmation surgery, and to have the ability to move to a place that accepts them. For me, the award meant affording my textbooks and a much needed wisdom tooth extraction. I am humbled by the other recipients' perseverance.
Casucci: Winning the scholarship has allowed me to continue my studies at Ryerson. This past summer I worked two jobs to be able to save money for my education. The combination of OSAP, the Bill 7 Award scholarship and income from work has made it possible to afford my living expenses, so I can continue to pursue my studies.
Why would you encourage other students at the university to apply?
Casucci: Many queer and trans students face systemic barriers accessing post-secondary education. These barriers can be overwhelming and at times it can feel as though you are so isolated and alone. So, if you identify as queer or trans and are in crisis – please know you are not alone and there is help. The Bill 7 Award is one mechanism by which you can receive financial assistance to stay in school and continue to pursue your ambitions. I strongly encourage struggling students from the 2SLGBTQIA+ community to apply to the Bill 7 Award because your presence at the university is valuable and you deserve an education. Our university is made better by the contributions of queer and trans students, so please know that this help is out there.
Morrow: I would encourage other students to apply to the Bill 7 Award, not only for the financial benefit, but for the connections they will make with their brilliant and tenacious co-winners, the dedicated members of the organization, and have the opportunity to network with members of generous donor companies. I hope the Bill 7 Award only continues to grow in its ability to help queer youth achieve their potential.
Are you involved in any volunteer/community organization capacity within the LGBTQ2S+ community? If so, do share!
Casucci: Yes, I am on the Youth Advistory Committee for Queer and Connected which is a health promotion program for 2SLGBTQIA+ youth in downtown Toronto, run collaboratively by Family Services Toronto, United Way and David Kelley Services. Queer and Connected is a fantastic resource for Queer and Trans students, anyone aged 16-29 can take advantage of the resources and support they offer. I am also a Peer Mentor with the Tri-Mentoring Program and offer insight and guidance to incoming 2SLGBTQIA+ students on their personal, academic and career-related questions.
Morrow: When I graduate university, it's my plan to do two things: I will lobby for policy changes that promote sustainable and affordable housing, and I'll create a program that provides housing, health care, training and employment services to marginalized people. According to the 519, external link, 2SLGBTQIA+ people make up 25-40 per cent of homeless youth. People in our community are more likely to be low-income, and 42.7 per cent of bisexual women like me are in the lowest income quintile. This scholarship means I'm able to afford my studies, to go on to make these big plans a reality. I'm grateful for the opportunity the Bill 7 Award has given me, and I will not let them down.
To learn more about the Bill 7 Award, visit their website, external link.The application window for the award opens as of April 2022.
Article From: Ryerson Today
Author: Michelle Grady