In India, there are close to 100,000 new cases of cervical cancer diagnosed annually, and every year, about 60,000 people die from the disease. One of the leading causes of cancer-related mortality worldwide, cervical cancer is also one of the most treatable forms of cancer when there is early detection and treatment. However, in low- and middle-income countries, the necessary screening to detect the human papillomavirus (HPV), which is the primary cause of cervical cancer, is often not accessible to the people whose lives it could save.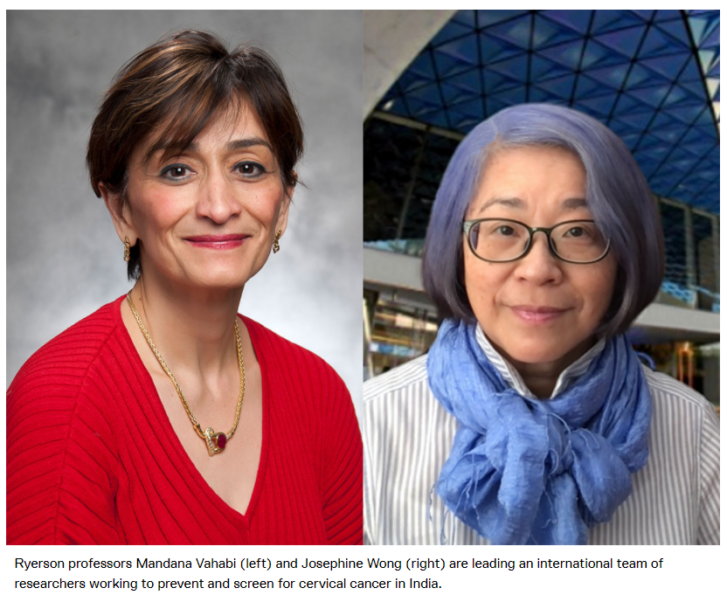 Ryerson University nursing professors Mandana Vahabi and Josephine Wong, along with Dr. Aisha Lofters, the chair of implementation science at Women's College Hospital, are leading a team of researchers from Canada and India in a five-year project to address the challenge of health literacy and community support for HPV screening. They will also offer both self-sampling and clinical screening tests to women. They have secured about $2 million in funding through the Canadian Institutes of Health Research (CIHR) Team Grant: Global Alliance for Chronic Diseases (GACD) – Primary and Secondary Prevention of Cancer program for their project, called Women Empowerment – Cancer Awareness Nexus (WE-CAN).   
Building capacity and support
The team will use arts-based outreach, such as community theatre, graphic novels and illustrated pamphlets, to raise awareness about HPV, cervical cancer and screening in eight Indian states in low-income rural and urban settings. The researchers say that reaching out to men, families and the community for health promotion will help to empower women and educate the public. "We also understood there is a lot of stigma attached to cervical cancer due to the nature of transmission of the virus, HPV, through sexual modes of transmission, and therefore we thought it has to be a more family-centred approach, whereby we are not only going to be educating women about the importance of cervical cancer screening, but we will also be educating their partners," said professor Vahabi.
The project team will also recruit and train local women to be community ambassadors who can share their personal stories. Professor Wong says that based on past projects, including her HIV and AIDS stigma reduction project, ambassadors can have a large impact. "Because they are part of the communities, then people trust them," said professor Wong. "Nobody really wants to hear from researchers… But if they hear from women with lived experience, they are going to listen."
Building on their previous work – which successfully used storytelling for health literacy, and included research into the most effective ways to communicate information in South Asian communities – the researchers are hoping the content will prove more compelling than traditional printed pamphlets. "Watching that story of how they go through a particular experience, how they come to make a decision about screening, can be much more powerful and much more memorable than handing somebody a pamphlet with some FAQs in it," said Dr. Lofters.
Collaboration and impact
The researchers estimate that at the end of their five-year project, at least 27,647 women will have engaged with the program and close to 5,500 will undertake self-sampling. HPV self-sampling kits can be used privately at home, and research has shown they are effective in increasing access to testing and have comparable accuracy to clinician-conducted tests. Additionally, the team will provide traditional screening methods if the women prefer a clinician or nurse to complete the test.
They will build an interactive website that will expand as the project proceeds, including digital testimonials. The research team will collect information about the success of the project's methods and data about the screenings. The methods could potentially be adapted for use in Canada and other countries, as well as for different health concerns. "This is something that could be adopted for other kinds of chronic conditions and different types of cancer screening and different target populations," professor Vahabi said.
The idea originated with the three co-principal investigators, who had worked together on past community-based research projects. However, they emphasize that the collaboration with their Canadian and Indian colleagues, including researchers from Mumbai's Tata Memorial Centre, which provides 70 per cent of cancer care in India, has been pivotal to preparing WE-CAN.
"This project is an excellent example of how collaboration can have important, life-saving impacts on local communities," said Steven N. Liss, Ryerson's vice president, research and innovation. "Congratulations to all of the team members on securing this funding for this innovative international endeavour."
Learn more about the projects funded by the CIHR Team Grants: Global Alliance for Chronic Diseases (GACD) – Primary and Secondary Prevention of Cancer program. , opens in new window
Related links:
Preventing cervical cancer in rural India (June, 2020)
Article From: Ryerson