This post is also available in: 简体中文 繁體中文
Ontarians booking multiple appointments for a second dose of the COVID-19 vaccine, in the hopes of becoming fully vaccinated as soon as possible, are finding it more difficult than anticipated to cancel those extra appointments once booked.
Barrie resident Neli Trevisan said she got her second dose on Tuesday after getting a tip from a friend about a small pharmacy offering next-day timeslots.
She then had to cancel all her registrations at individual pharmacies, one by one, as well as deal with the provincial booking site.
"I went on the provincial website and I looked for a link. I looked for a link on my email that they had sent confirming my appointment. Couldn't find a link. I found one to reschedule so I tried following that link to see if they might offer me an option to cancel later on. And there was no option to cancel," Trevisan said.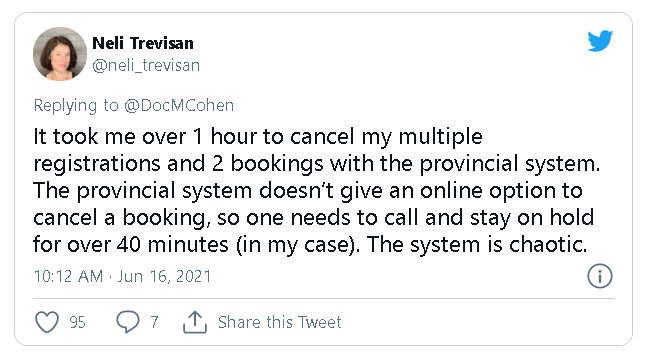 Trevisan said tried her public health unit website but that didn't work either. So she took to the phones and got in touch with someone after nearly an hour of waiting.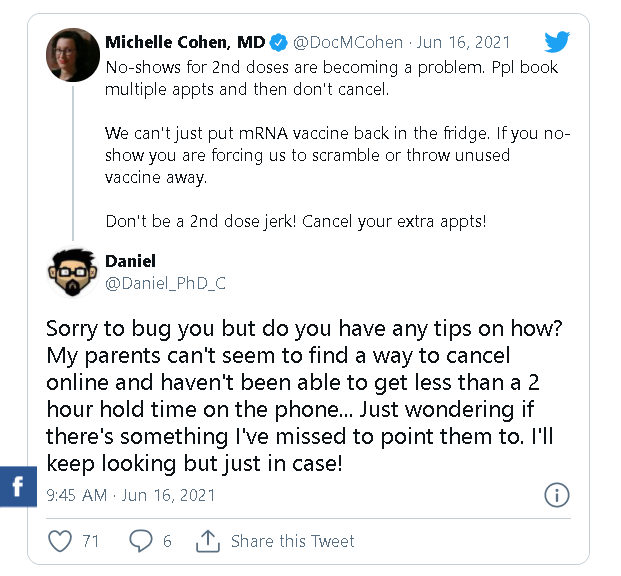 "The attendant was very polite and he thanked me very profusely after because he said a lot of people don't call to cancel or don't cancel their appointments and some doses are going to waste because of that," Trevisan said. "It was very frustrating because, for one thing I know that I am privileged that I have the time to do that … what about newcomers or people that are working full-time or mobile during the workday?"
Daniel Perez wanted to help his parents, in their 60s, navigate the system and cancel extra appointments once they received a second shot at a pop-up clinic. Finding a way to make sure health officials were aware they no longer needed their slots ended up taking more time than expected.
"The option to cancel a booked appointment is surprisingly difficult to find in the confirmation email," Perez said. "There's a link to the Ontario site that mentions what to do if you need to cancel an appointment. When you click on it, it takes you to the page to book a new vaccination."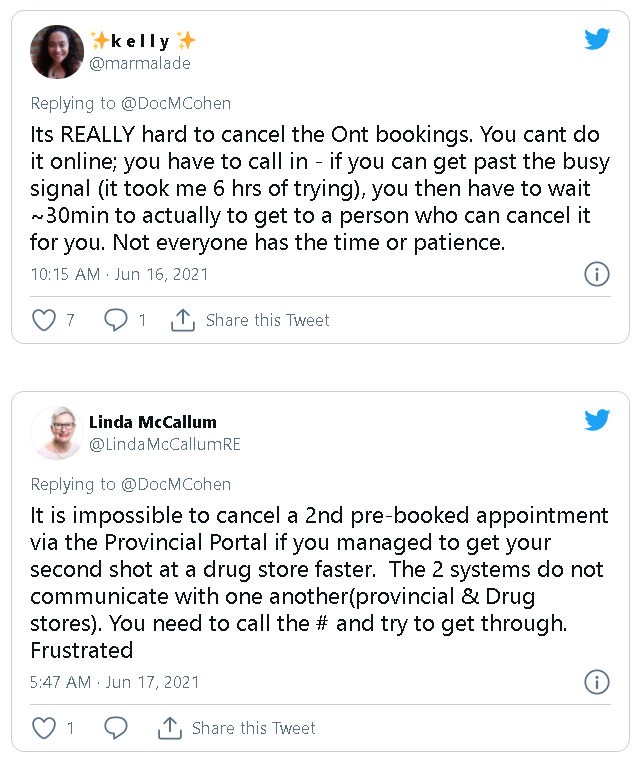 "No-shows" becoming a problem, doctor says
Healthcare workers are raising the alarm over the repercussions of people not cancelling second dose appointments.
"No-shows for second doses are becoming a problem. People book multiple appointments and then don't cancel," Dr. Michelle Cohen tweeted. "We can't just put mRNA vaccines back in the fridge. If you no-show, you are forcing us to scramble or throw unused vaccine away."
"This is clearly a policy and booking system problem, too," she added. "It shouldn't be hard or confusing to cancel an appointment."
People on Twitter have started sharing what appears to be a link that allows you to easily cancel any unwanted appointments.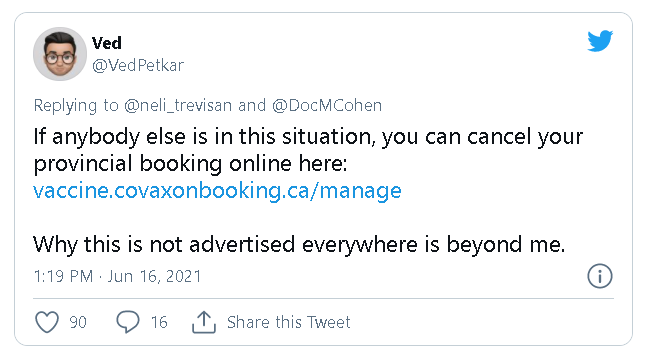 The provincial webpage allows you to manage appointments based on your mobile number or email and booking confirmation code.
"Why this is not advertised everywhere is beyond me," one man tweeted.
Many others on social media say they combed through the main vaccine booking site and found no sign of this quick fix.
Trevisan said she almost gave up trying to cancel her appointments because of the confusing process.
"When I was on the phone with the attendant and I was waiting, I thought I will wait an hour and if no one picks up I'm not going to cancel because that's just too much," she said.
"The booking system is already convoluted so I had a timeline. I had an hour and then I would be gone."
The province says it's advising people to only sign up for one appointment at a time. However, they say if people do book multiple appointments, it is their responsibility to cancel their own appointments.
Article From:City News
Author: MARK MCALLISTER AND CICI FAN