This post is also available in: 简体中文 繁體中文
Project Protech's 14th Resilience Dialogue series will talk about senior care service needs during the pandemic. We will see you this March 11th, 2021 at 8 pm EST. Please register for this event in advance.
The COVID-19 pandemic has impacted the seniors' population in severe ways. Residents within long-term care homes and retirement homes are disproportionately at risk not only physically, but the isolation can also lead to increased risk on mental health. Along with the social isolation, many seniors do not have access to technology that can allow them to communicate with their friends and family. Lower-income seniors with limited phone plans may be forced to make tough choices on whether to call their family or their doctor. COVID-19 poses a risk to the seniors without access to healthcare resources and other forms of social structures that can support their overall wellness.
In this week's discussion, we will look at some ways to address such complicated challenges with experts in the field.
Registration link: https://ryerson.zoom.us/webinar/register/WN_9Qglgp1OT82d1SodY9AFEw
After registering, you will receive a confirmation email containing information about joining the webinar.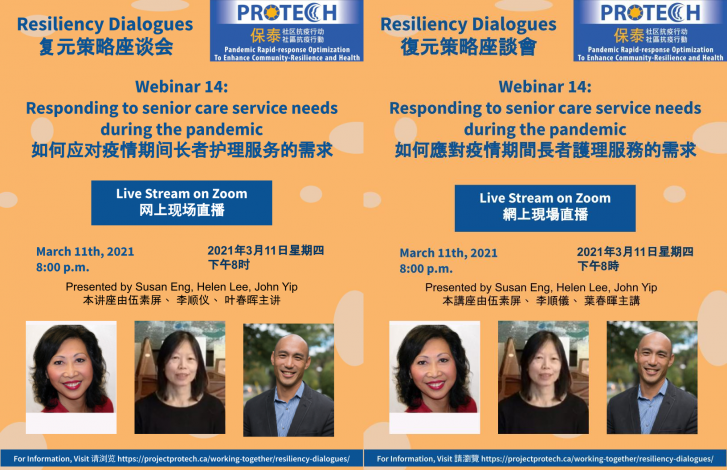 About Speakers:
Susan Eng
Susan Eng, one of Canada's leading advocates, and a Senior Fellow in Advocacy for the National Institute on Ageing. She is a Toronto lawyer and former Executive Vice President of the Canadian Association of Retired Persons (CARP). During her 8-year tenure as head of advocacy, Susan led CARP to shape the public discourse and secure legislative change on key issues such as pension reform, investor protection, mandatory retirement, workplace age discrimination, home care and seniors' poverty. Increasingly, CARP had become a trusted source of public policy input at all levels of government and in the media. In 2012, Susan was named one of the Hill Times' Top 100 Lobbyists.
Helen Lee (Caregiver, Advocate)
Helen has been active in the Chinese community, her church and most recently advocating for changes to long term care. She is the Past Chair, Family Council for Mon Sheong Darcy. She worked in the Ontario Public Service in human resources and change management prior to retiring to care for her grandmother.
John Yip (he/him), MBA, ICD.D
John Yip is President and CEO of Kensington Health, a not-for-profit, community-based residential and ambulatory health services provider. John has over 20 years of healthcare industry, leading system and organizational strategy and change. Prior to joining Kensington Health, John was the Vice-President of Corporate Services at Health Quality Ontario and a management consultant with the national health care practices at CGI, KPMG and PwC before founding his own boutique healthcare consulting firm. John holds an MBA in Health Services Management from McMaster University, and a B.Sc. and B.A. from Dalhousie University. John sits on the Boards of Directors for the Centre for Effective Practice Board and the Regional Geriatric Program of Toronto. John is a member of the Institute of Corporate Directors.
Twitter: @JohnYipTO, LinkedIn: @JohnYip
Call to Action from the panel:
Write to your MPs, MPPs about the need for LTC transformation, neglect of our seniors
Write to Premier Ford, PM Trudeau
Share information on your social media platforms
Attend the Tuesday weekly 10+3 Town Hall series at 4:00 pm organized by Canadians 4LTC

( twitter /you tube @canadians4ltc) – check start time

Attend on line National Day of Action April 27th, 2021 organized by Canadians4LTC
Further Information & Resources
Ontario Health Coalition:   https://www.ontariohealthcoalition.ca/
Canadians4ltc :  https://twitter.com/canadians4ltc
Drs for Long-Term Care Justice : https://docs4ltcjustice.ca/
Ontario LTC COVID 19 Commission: http://www.ltccommission-commissionsld.ca (Check out interim reports & transcripts of their interviews)
National Institute on Aging : www.nia.nih.gov