This post is also available in: 简体中文 繁體中文
Project Protech's 17th Community Partner's Showcase series will be released Tuesday March 9th at 6pm ESTon our YouTube channel. We have the Workplace Safety & Prevention Services (WSPS) for this episode! Stay tuned and check out their recent community work during the new wave of the pandemic.
Workplace Safety & Prevention Services (WSPS) is a not-for-profit organization committed to protecting Ontario workers and businesses. WSPS serves the manufacturing, agricultural and service sectors. As the largest health and safety association in Ontario, WSPS supports over 171,000 member firms and 4.2 million workers.
In support of the global effort to flatten the curve of COVID-19 infection, the staff at Workplace Safety & Prevention Services has modified ways of working. While continuing to provide consulting and training solutions, they have also established additional remote and virtual services, and support essential on-site service where it is safe to do so.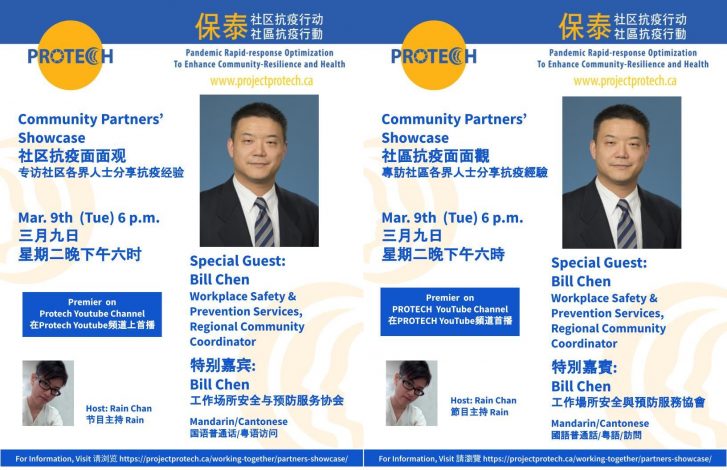 About the speakers:
Bill Hong Chen
Bill is with Workplace Safety & Prevention Services (WSPS), a not-for-profit health and safety association serving industrial, agriculture and service sectors in Ontario. His job is to provide free resources to small businesses and community organizations across GTA. He also actively promotes health and safety in Chinese community.